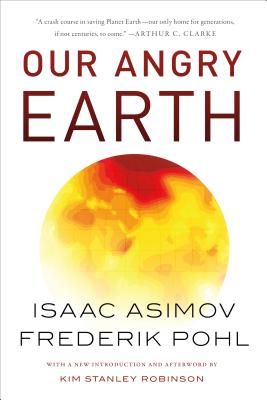 Our Angry Earth (Paperback)
Tor Books, 9780765399762, 480pp.
Publication Date: March 6, 2018
* Individual store prices may vary.
Description
"A lucid overview of [environmental] problems and a compelling call to action." —Publishers Weekly
From two of science fiction's most celebrated and brilliant minds—Isaac Asimov and Frederik Pohl—comes the second edition of Our Angry Earth, a comprehensive analysis of today's environmental threats and a guide on how we can heal our planet, with an introduction and afterword from New York Times bestselling author Kim Stanley Robinson.
Our Angry Earth provides a candid picture of the present and many possibilities for a better, cleaner future. From the greenhouse effect and depletion of our ozone layer to nuclear waste and species extinction, Asimov and Pohl not only present accessible explanations of complex scientific processes but ways we can improve our behavior and relationship with the planet, whether it be involvement in social activism or individual lifestyle changes.
Kim Stanley Robinson, author of New York Times bestsellers 2312, New York 2140, and the internationally renowned Mars trilogy, brings his decades-spanning expertise in climate change to Our Angry Earth's introduction and afterword.
About the Author
Isaac Asimov, author of the Foundation trilogy and many other novels, was one of the great SF writers of the 20th century, and his hundreds of books introduced many thousands of readers to science fiction. Born in Brooklyn, he lived in Boston and in New York City for most of his life.

Frederik Pohl (1919-2013) was one of science fiction's most important authors. Among his many novels are Gateway, which won the John W. Campbell Memorial Award, the Hugo Award, the Locus SF Award, and the Nebula Award, Beyond the Blue Event Horizon, which was a finalist for the Hugo and Nebula Awards, and Jem, which won the 1980 National Book Award in Science Fiction. He also collaborated on classic science fiction novels including The Space Merchants with Cyril M. Kornbluth. Pohl was an award-winning editor of Galaxy and If, a book editor at Bantam, and served as president of the Science Fiction Writers of America. He was named a Grand Master of Science Fiction by SFWA in 1993, and was inducted into the Science Fiction and Fantasy Hall of Fame.
Praise For Our Angry Earth…
Praise for Our Angry Earth
"These two old pros took on a task they cared deeply about, and the result is very impressive." —Kim Stanley Robinson
"The one ecology book to read—if you've read no others…a wake up call to the planet's citizens . . . a clear, compelling call for action now." —Michael McCloskey, former chairman of the Sierra Club
"This book is not an opinion piece. It is a scientific survey of the situation that threatens us all—and it says want we can do to mitigate the situation." —Isaac Asimov
"These past masters are too wise and honest to offer easy hopes. Rather, they provide recipes for engagement, for getting informed, and getting involved, which is the best prescription for all of us. This is a vital and vitally important book." —Keith Ferrell
"An environmental call to arms, made even more relevant by the global summit in Rio de Janeiro on our planet's future. Here is the ultimate how-to book—a sound plan for moving back from catastrophe . . ."—Hugh Downs, host of ABC's 20/20.
"A comprehensive look at the major threats to our planet's ecosystem and present a prescription by which humanity might rescue itself from self-destruction. " —Publishers Weekly