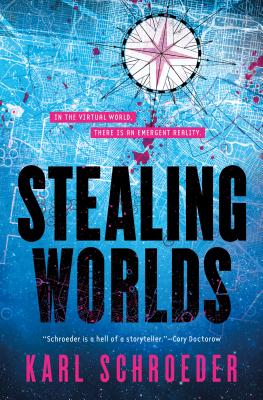 Stealing Worlds (Hardcover)
Tor Books, 9780765399984, 320pp.
Publication Date: June 18, 2019
* Individual store prices may vary.
Description
From Karl Schroeder, author of Lockstep, comes the near-future, science fiction, hacker's heist, Stealing Worlds.

The Verge—New Science Fiction and Fantasy Books to Check Out in June

Sura Neelin is on the run from her creditors, from her past, and her father's murderers. She can't get a job, she can't get a place to live, she can't even walk down the street: the total surveillance society that is mid-21st century America means that every camera and every pair of smart glasses is her enemy.

But Sura might have a chance in the alternate reality of the games. People can disappear in the LARP game worlds, into the alternate economy of Notchcoin and blockchains. The people who build the games also program the surveillance networks—she just needs an introduction, and the skills to play.

Turns out, she has very valuable skills, and some very surprising friends.
About the Author
KARL SCHROEDER is a professional futurist as well as one of Canada's most popular science fiction and fantasy authors. He divides his time between writing and conducting workshops and speaking on the potential impacts of science and technology on society. He is the author of The Million, as well as a half-dozen previous SF novels.
Praise For Stealing Worlds…
Praise for Stealing Worlds

"Lesser writers use technology as a metaphor; Schroeder is a master of rigor in technological speculation. Part prophet, part critic, Schroeder is a hell of a storyteller."—Cory Doctorow

"Karl Schroeder seizes cyberpunk traditions and larps them into the onrushing era of blockchains, sentient contracts and rapid-paced convulsions of reality!"—David Brin, author of The Postman and Existence.

"This is a vivid exploration of what the coming decades might really be like, combining several major contemporary forces for change, like AI and climate change and online gaming, in a startling new vision. Add a tense plot and engaging characters, and the result is science fiction at its best."—Kim Stanley Robinson, Hugo and Nebula Award-winning author of New York: 2140

Praise for Lockstep

"It is easily the most invigorating, most scientifically curious book I've ever read that's written in a way that both young people and adults can enjoy it. It's a book that will make everyone who reads it smarter."—Cory Doctorow, author of Walk Away

"There's a gee-whiz wonderment quality to the Lockstep that's infectious. It's also incredibly gratifying to find such a universe." —iO9

"Schroeder consistently has fascinating science fictional ideas and manages to make them into unputdownable stories with real characters."—Jo Walton

"Schroeder brilliantly explores what hibernation might give—and take from—humanity. Sure, we'll get the stars. But who controls when you'll wake up?"—David Brin