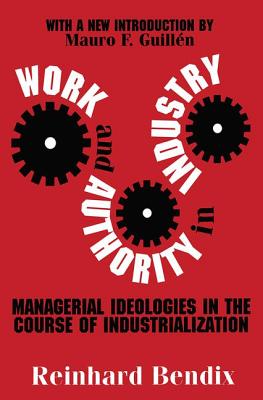 Work and Authority in Industry
Managerial Ideologies in the Course of Industrialization
Paperback

* Individual store prices may vary.
Other Editions of This Title:
Hardcover (6/28/2018)
Description
Work and Authority in Industry analyzes how the entrepreneurial class responded to the challenge of creating, and later managing, an industrial work force in widely differing types of industrial societies: the United States, England, and Russia. Bendix's penetrating re-examination of an aspect of economic history largely taken for granted was first published in 1965. It has become a classic. His central notion, that the behavior of the capitalist class may be more important than the behavior of the working class in determining the course of events, is now widely accepted. The book explores industrialization, management, and ideological appeals; entrepreneurial ideologies in England's early phase of industrialization; entrepreneurial ideologies in eighteenth- and nineteenth-century Russia; the bureaucratization of economic enterprises; and the American experience with -industrialization. This essential text will interest those in the fields of political science, industrial relations, management studies, as well as comparative sociologists and historians.
Routledge, 9780765806680, 509pp.
Publication Date: April 30, 2001