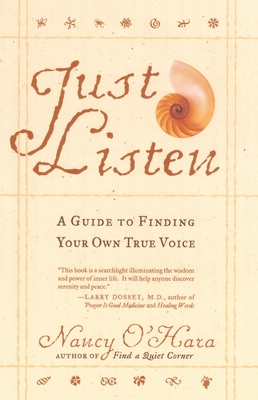 Just Listen (Paperback)
Broadway Books, 9780767900232, 288pp.
Publication Date: August 8, 1998
Description
Nancy O'Hara's bestselling Find a Quiet Corner guided readers to a special place within that calms the mind and soothes the soul. Just Listen introduces the next step -- discovering what you really want and finding the courage to pursue it.
Adapting classic Zen principles and practices to modern-day life, O'Hara encourages readers to sift through their crowded minds and sweep away anything that may interfere with clarity. Her simple exercises and meditations help readers focus on their dreams, reach out to others, take risks, and live life more fully. O'Hara's easy-to-learn techniques are powerfully effective in lighting an unobstructed path to serenity.
About the Author
Nancy O'Hara's first book, Find a Quiet Corner, was a national bestseller.A full-time writer, she currently conducts Quiet Corner workshops in and around New York City, where she lives."
Praise For Just Listen…
Tune into the voice of your inner spirit.

"This book is a searchlight illuminating the wisdom and power of inner life. It will help anyone discover serenity and peace."
--Larry Dossey, M.D., author of Prayer Is Good Medicine and Healing Words

"Further guidance for reducing daily anxieties and heeding inner wisdom from the author of Find a Quiet Corner."
--New Age Journal

"This is a clear, beautiful book that can help everyone. O'Hara's writing is fine, compassionate, and always has a ring of truth."
--Natalie Goldberg, author of Writing Down the Bones

"Combining Zen practice with a twelve-step philosophy, O'Hara uses gentle essays and exercises to create a book to do rather than to just read."
--Publishers Weekly
Advertisement