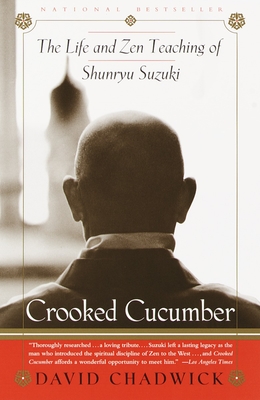 Crooked Cucumber (Paperback)
The Life and Teaching of Shunryu Suzuki
Harmony, 9780767901055, 464pp.
Publication Date: February 8, 2000
* Individual store prices may vary.
Description
Shunryu Suzuki is known to countless readers as the author of the modern spiritual classic Zen Mind, Beginner's Mind.  This most influential teacher comes vividly to life in Crooked Cucumber, the first full biography of any Zen master to be published in the West.  To make up his intimate and engrossing narrative, David Chadwick draws on Suzuki's own words and the memories of his students, friends, and family.  Interspersed with previously unpublished passages from Suzuki's talks, Crooked Cucumber evokes a down-to-earth life of the spirit.  Along with Suzuki we can find a way to "practice with mountains, trees, and stones and to find ourselves in this big world."
About the Author
David Chadwick selected and edited the accounts that make up To Shine One Corner of the World, drawing on hundreds of interviews and notes amassed in the creation of his acclaimed biography of Suzuki, Crooked Cucumber, and from his ongoing oral history of Shunryu Suzuki. Chadwick himself began study Zen with Suzuki Roshi in 1966 and was ordained by him in 1971. He is also the author of Thank You and OK!: An American Zen Failure in Japan.
Praise For Crooked Cucumber: The Life and Teaching of Shunryu Suzuki…
"Suzuki left a lasting legacy as the man who introduced the spiritual discipline of Zen to the West . . . and Crooked Cucumber affords a wonderful opportunity to meet him."
--Los Angeles Times

"A generous glimpse of the humanity and message of one of the great spiritual teachers of the modern world."
--Publishers Weekly

"A moving and eloquent biography of that quiet man who was to become the most widely revered Zen teacher in this country.  Conveying his spirit lovingly and well, it becomes in itself a wonderful manifestation of his gentle teachings."
--Peter Matthiessen, author of At Play in the Fields of the Lord and The Snow Leopard

"It's impossible to imagine a better book about Suzuki-roshi.  Its precise picture of Suzuki's values, hopes, and problems makes it a major primer of Zen itself."
--Robert Pirsig, author of Zen and the Art of Motorcycle Maintenance

"A touching account of Suzuki-roshi's life, full of funny stories, brave and generous."
--Robert Bly, author of Iron John and The Sibling Society

"Shunryu Suzuki comes to life through these pages to a degree I would not have thought possible.  Chadwick has produced a remarkable biography of a truly remarkable man."
--Huston Smith, author of The World's Religions