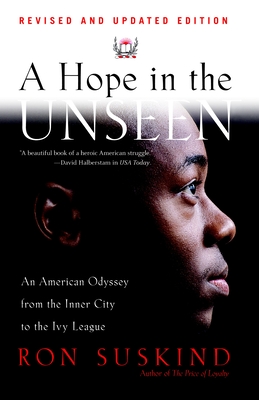 A Hope in the Unseen (Paperback)
An American Odyssey from the Inner City to the Ivy League
Broadway Books, 9780767901260, 400pp.
Publication Date: May 4, 1999
* Individual store prices may vary.
Description
It is 1993, and Cedric Jennings is a bright and ferociously determined honor student at Ballou, a high school in one of Washington D.C.'s most dangerous neighborhoods, where the dropout rate is well into double digits and just 80 students out of more than 1,350 boast an average of B or better. At Ballou, Cedric has almost no friends. He eats lunch in a classroom most days, plowing through the extra work he has asked for, knowing that he's really competing with kids from other, harder schools. Cedric Jennings's driving ambition–which is fully supported by his forceful mother–is to attend a top-flight college.

In September 1995, after years of near superhuman dedication, he realizes that ambition when he begins as a freshman at Brown University. In this updated edition, A Hope in the Unseen chronicles Cedric's odyssey during his last two years of high school, follows him through his difficult first year at Brown, and now tells the story of his subsequent successes in college and the world of work.
About the Author
Ron Suskind is the author of The Globe and Mail and New York Times bestsellers The One Percent Doctrine, The Price of Loyalty, and A Hope in the Unseen. From 1993 to 2000 he was the senior national affairs writer for The Wall Street Journal, where he won a Pulitzer Prize for Feature Writing. He currently writes for various national magazines, including The New York Times Magazine and Esquire, and is the senior fellow at Harvard's Center of Ethics. He lives in Harvard Square, MA. 
 
Praise For A Hope in the Unseen: An American Odyssey from the Inner City to the Ivy League…
"A beautiful book of a heroic American struggle."
--David Halberstam in USA Today

"[An] extraordinary, formula-shattering book."
--New York Times Book Review

"A story of sheer human grit that should be read by others as example and inspiration."
--Jonathan Yardley, Washington Post Book World

"Absolutely gripping.  A sort of suspense novel of the human psyche. . . . It's beyond good, it's really extraordinary."
--Walter Kirn, National Public Radio