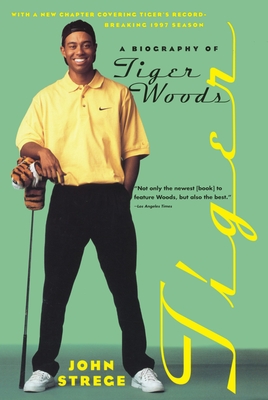 Tiger (Paperback)
Broadway Books, 9780767901451, 284pp.
Publication Date: January 5, 1998
Description
Record-breaking media sensation Tiger Woods has moved beyond the fairway to take the world by storm. After becoming the first golfer in history to win three straight U.S. Amateur titles, his win at the 1997 Masters Tournament gave him a permanent place in the record book: youngest player to win, lowest score ever, and first African-American player to win. In Tiger, John Strege, golf writer and longtime friend with unparalled access to Woods and his family, takes us behind the scenes of this incredible life--from the time Tiger picked up a golf club at age nine months, to his first hole in one at age six, to his unprecedented domination of junior, amateur, and now high-stakes professional golf.



Packed with personal anecdotes from family, friends, teammates, and coaches, as well as what it's like to play on a course with Tiger from golf greats such as Jack Nicklaus and Arnold Palmer, Tiger provides a riveting shot-by-shot account of Woods's life up through the 1997 season. It details the unshakable relationship with his parents, the racial issues that have surrounded him, and the string of almost mythical successes that have carried him all the way to Niketown.



A role model for young and old alike, Tiger Woods and his story will capture the minds and hearts of sports fans everywhere.
About the Author
John Strege has covered Tiger Woods for the "Orange County Register" since Tiger was fourteen years old. A contributor to "Sports Illustrated,"

"Golf," and "Golf World," Strege lives with his wife, Marlene, in Vista, California. "From the Hardcover edition."
Praise For Tiger…
What the world is saying about Tiger Woods:

"Certain players, you look at them once and you see something.  The first time I saw Jack Nicklaus or Arnold Palmer or Ben Hogan or Sam Snead I saw something special.  As soon as I saw Tiger Woods swing, I thought, man, this young guy has got it.  'It' is something indescribable."                 --Gary Player

"His blissfully sweet swing, mature countenance, and sheer, outrageous ability confirm the arrival, finally, of golf's first black superstar."
--Newsweek

"It is conceivable that in terms of overall impact on the sport--when you figure in media, the dollars on the table for him, his ability to be a role model--that if he succeeds he might be the most important player ever."
--PGA Tour Commissioner Tim Finchem
Advertisement