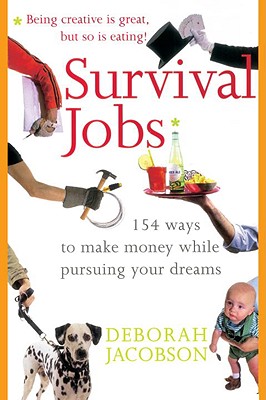 Survival Jobs (Paperback)
Broadway Books, 9780767901505, 256pp.
Publication Date: May 1, 1998
Description
In the first-ever guide to finding a satisfying job that will keep food on the table while you focus on your perhaps less lucrative dreams, Deborah Jacobson presents a detailed survey of employment possibilities that keep stressful money worries away and allow plenty of time for pursuing one's true calling in life.
Survival Jobs proves that you don't have to wait tables while looking for your big break. With frank and funny advice from an author who has traveled the survival-job road, Jacobson introduces opportunities both on and off the beaten track that suit a wide variety of schedules, skills, and personalities. Survival Jobs includes:
"Jobs for the CEO in You" (apartment manager, massage therapist, and other "be-your-own-boss" suggestions)"That's Entertainment" (from working as a personal assistant to performing at theme parks)"Nine to Five...Not" (clock in at the crack of dawn or the midnight hour as a limousine driver, a video-store clerk, or an airport employee)"You Gotta Have Heart" (jobs that satisfy the spirit and pay the bills: pet care, social work, children's entertainment)
For each job, she describes:
Duties and responsibilities, the pros and consLikely salary, necessary skills, and educational backgroundIdeas for getting startedSources for contacts, including names and phone numbers in major cities.
About the Author
Deborah Jacobson, a cantor, singer, writer, wife, and mother, has owned and operated two successful part-time businesses. She lives in Stamford, Connecticut.
Advertisement