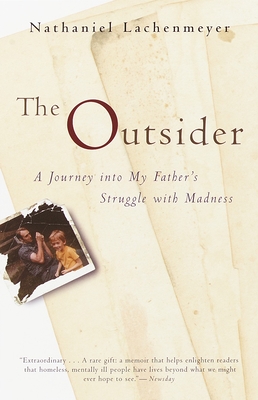 The Outsider (Paperback)
A Journey Into My Father's Struggle With Madness
Broadway Books, 9780767901918, 288pp.
Publication Date: August 14, 2001
* Individual store prices may vary.
Description
The Outsider is an unsentimental yet profoundly moving look at one family's experience with mental illness. In 1978, Charles Lachenmeyer was a happily married professor of sociology who lived in the New York suburbs with his wife and nine-year-old son, Nathaniel. But within a few short years, schizophrenia–a devastating mental illness with no known cure–would cost him everything: his sanity, his career, his family, even the roof over his head. Upon learning of his father's death in 1995, Nathaniel set out to search for the truth behind his father's haunted, solitary existence. Rich in imagery and poignant symbolism, The Outsider is a beautifully written memoir of a father's struggle to survive with dignity, and a son's struggle to know the father he lost to schizophrenia long before he finally lost him to death.

The Outsider is a recipient of the Kenneth Johnson Memorial Research Library Book Award and is the winner of the 2000 Bell of Hope Award, presented annually by the Mental Health Association of Philadelphia to honor "significant and far-reaching contributions benefiting those facing the challenge of mental illness."
About the Author
A frequent lecturer on mental health and homeless issues, Nathaniel Lachenmeyer lives in Washington, D.C., with his wife.
Praise For The Outsider: A Journey Into My Father's Struggle With Madness…
"A gripping and unusual story. It throws into sharp relief the suffering inflicted on a brilliant and gentle man by mental illness. Written with understanding, compassion and love, this is an extraordinarily moving book that has made a deep impression on me. It should be compulsory reading for high school students as well as the adult population."
--Jane Goodall

"Part detective story, part therapeutic memoir, The Outsider combines the dispassionate tone of a good reporter with the clear-eyed compassion for the father he lost."
--The Globe and Mail

"In a style reminiscent of Oliver Sacks, [Lachenmeyer] wonderfully evokes the pathetic beauty of his father's attempts to retain his dignity as he struggled with inner torments and the indifference of others. Highly recommended."
--Library Journal

"The Outsider is a truly wonderful book–a haunting, poignant story of a son's life with, and without, his father. A rare and moving portrait of one of life's major struggles–the devastation created by severe mental illness."
--John Oldham, M.D., Director of New York State Psychiatric Institute