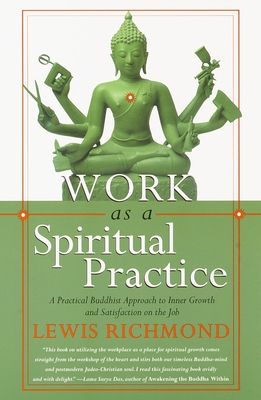 Work as a Spiritual Practice
A Practical Buddhist Approach to Inner Growth and Satisfaction on the Job
Paperback

* Individual store prices may vary.
Description
A guide to developing and maintaining a spiritual life on the job, drawn from the teachings and practices of Buddhist tradition.

Most people associate Buddhism with developing calmness, kindness, and compassion through meditation. Lewis Richmond's Work as a Spiritual Practice shows us another aspect of Buddhism: the active, engaged side that allows us to find creativity, inspiration, and accomplishment in our work lives. With over forty spiritual exercises that can be practiced in the middle of a busy workday, Work as a Spiritual Practice is based on the principle that "regardless of your rank and title at work, you are always the chief executive of your inner life."

Drawn from the author's diverse professional experience—as a Buddhist meditation teacher, business executive, musician, and high-tech entrepreneur—Work as a Spiritual Practice addresses a wide variety of on-the-job problems. Here you'll learn how to:

• perform spiritual practices while commuting to and from work
• meditate while sitting, walking, or standing—a minute at a time
• understand ambition, money, and power from a spiritual perspective

Work as a Spiritual Practice is an essential guide for anyone who wants to bring his or her spiritual life and work life together.
Praise For Work as a Spiritual Practice: A Practical Buddhist Approach to Inner Growth and Satisfaction on the Job…
Praise for Work as a Spiritual Practice:

"This book on utilizing the workplace as a place for spiritual growth comes straight from the workshop of the heart and stirs both our timeless Buddha-mind and postmodern Judeo-Christian soul. I read this fascinating book avidly and with delight."
--Lama Surya Das, author of Awakening the Buddha Within

"This deceptively simple, immensely practical book is as useful as a fine shoe. Like good footwear it is made to be used, built to last, and has the kind of fine style that derives from a perfect matching of form to function. I have become so attached to it that leaving the house without one or the other of Lewis's practices in mind is like venturing into the wilderness without my boots."
--Peter Coyote, movie actor and author of Sleeping Where I Fall

An "exquisite guide to finding happiness and health in one's work.
--NAPRA ReView

"This timely book is the one the workaday world has been waiting for.  Lewis Richmond is the ideal person to explore the application of Buddhist practices to the workplace.  [This is] an accessible, personal, witty, and poetic book that will be helpful, even transformative, for anyone who works for a living."
--Sylvia Boorstein, author of It's Easier Than  You Think: The Buddhist Way to Happiness
Harmony, 9780767902335, 272pp.
Publication Date: February 1, 2000
About the Author
Lewis Richmond is a Buddhist teacher, workshop leader, software entrepreneur, and musician/composer. Formerly Executive Vice President of Smith & Hawken, Ltd., he is the founder and owner of Forerunner Systems, Inc., the leading provider of inventory management software to the catalog industry. Lake of No Shore, his debut solo piano album, was released by Artifex Records in February 1999. An ordained disciple of Buddhist master Shunryu Suzuki Roshi, Mr. Richmond co-leads Dharma Friends, a meditation group in Mill Valley, California, where he lives.