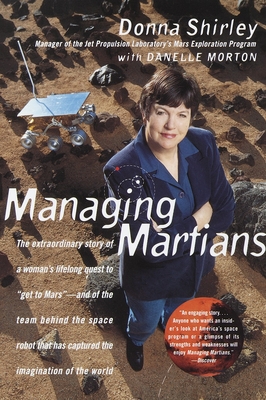 Managing Martians (Paperback)
Broadway Books, 9780767902410, 304pp.
Publication Date: January 12, 1999
Description
Donna Shirley's 35-year career as an aerospace engineer reached a jubilant pinnacle in July 1997 when Sojourner--the solar-powered, self-guided, microwave-oven-sized rover--was seen exploring the Martian landscape in Pathfinder's spectacular images from the surface of the red planet. The event marked a milestone in space, but for Donna Shirley, the leader of the mostly male team that designed and built Sojourner--and the first woman ever to manage a NASA program--it marked a triumph of another kind.

Managing Martians is Shirley's captivating memoir of a life and career spent reaching for the stars. From her seemingly outlandish aspiration at age ten to build aircraft, to abandoning high school Home Ec in favor of mechanical drawing, and, at sixteen, becoming a licensed pilot, Shirley defied expectations from the beginning. In a vivid narrative, rich with anecdotes and thrilling turning points, Shirley recounts the intense battles she waged to defend her vision and the ingenuity and resourcefulness of her committed team. Her moment-by-cliffhanging-moment account of Pathfinder's landing and Sojourner's first tentative foray across the sands of Mars brilliantly captures the fulfillment of a lifelong dream as it heralds a brave new era of space exploration.
About the Author
Donna Shirley managed the Mars Exploration Program at the California Institute of Technology's Jet Propulsion Laboratory through August 1998. A widely sought-after speaker, Shirley now lectures professionally on the subjects of Mars Exploration and of management of creative enterprises. She lives in southern California.

Danelle Morton is a Los Angeles-based correspondent for "People" magazine.
Praise For Managing Martians…
"An engaging story. . . . Anyone who wants an insider's look at America's space program or a glimpse of its strengths and weaknesses will enjoy Managing Martians."
--Discover

"A compelling account of what went on behind the scenes to make Pathfinder and Sojourner such a success."
--Space Views, the online publication of Space Exploration

"Describing [Sojourner's] wonders, Shirley is part proud parent, part car salesman, and part stand-up comic."
--Mirabella

"This book will certainly appeal to anyone who has ever misstepped, anyone who has ever been uncertain, and anyone of any age who still dreams of reaching beyond the horizon."
--Publishers Weekly (starred review)
Advertisement