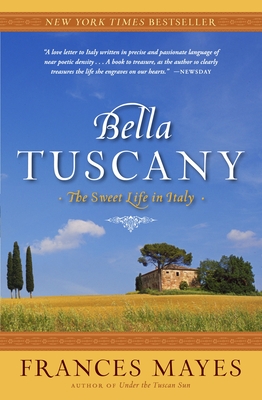 Bella Tuscany
The Sweet Life in Italy
Paperback

* Individual store prices may vary.
Description
Frances Mayes, whose enchanting #1 New York Times bestseller Under the Tuscan Sun made the world fall in love with Tuscany, invites readers back for a delightful new season of friendship, festivity, and food, there and throughout Italy.

Having spent her summers in Tuscany for the past several years, Frances Mayes relished the opportunity to experience the pleasures of primavera, an Italian spring. A sabbatical from teaching in San Francisco allowed her to return to Cortona—and her beloved house, Bramasole—just as the first green appeared on the rocky hillsides.

Bella Tuscany, a companion volume to Under the Tuscan Sun, is her passionate and lyrical account of her continuing love affair with Italy. Now truly at home there, Mayes writes of her deepening connection to the land, her flourishing friendships with local people, the joys of art, food, and wine, and the rewards and occasional heartbreaks of her villa's ongoing restoration. It is also a memoir of a season of change, and of renewed possibility. As spring becomes summer she revives Bramasole's lush gardens, meets the challenges of learning a new language, tours regions from Sicily to the Veneto, and faces transitions in her family life.

Filled with recipes from her Tuscan kitchen and written in the sensuous and evocative prose that has become her hallmark, Bella Tuscany is a celebration of the sweet life in Italy.
Praise For Bella Tuscany: The Sweet Life in Italy…
"A love letter to Italy written in precise and passionate language of near poetic density...A book to treasure, as the author so clearly treasures the life she engraves on our hearts."
--Susan Jacoby, Newsday

"Fall in love again with the charming people and countryside of Cortona in this evocative follow-up to Under the Tuscan Sun."
--People

"Mayes displays a gift for conveying everyday life through her writing...Perfect for those with the yen but not the means for a second home...Mayes presents a simpler, less frantic version of how to live one's life."
--USA Today

"Frances Mayes is, before all else, a wonderful writer...She never loses sight of the fact that millenniums-old Tuscany, with its immemorial customs and folkways, is not to be domesticated or made familiar.  Her Italy remains intransigently foreign, exotic, a continuing revelation of strangeness and unexpected beauties."
--Chicago Tribune
Crown, 9780767902847, 304pp.
Publication Date: April 4, 2000
About the Author
Frances Mayes is the author of the now-classic Under the Tuscan Sun, which was a New York Times bestseller for more than two and a half years and became a Touchstone movie starring Diane Lane. Other international bestsellers include: Bella Tuscany, Everyday in Tuscany, A Year in the World, and three illustrated books: In Tuscany, Bringing Tuscany Home, and The Tuscan Sun Cookbook. She is also the author of two novels, Swan and Women in Sunlight. She has written six books of poetry and The Discovery of Poetry. The most recent books are See You in the Piazza and Always Italy. Her books have been translated into more than fifty languages.