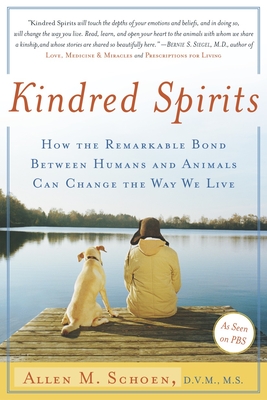 Kindred Spirits: How the Remarkable Bond Between Humans and Animals Can Change the Way We Live (Paperback)
How the Remarkable Bond Between Humans and Animals Can Change the Way We Live
Broadway Books, 9780767904315, 288pp.
Publication Date: February 12, 2002
Description
Treating animals just as any healer would treat human beings, Allen Schoen has become one of America's most celebrated veterinarians. Kindred Spirits shares the transformative power of his remarkable methods, explores how alternative healing is revolutionizing his profession, and, in the tradition of James Herriot, shares heartwarming stories of animals and their caretakers who have deeply enriched each other's lives. Through moving scenes such as an ailing German shepherd who fights to stay alive so he can assist and comfort his ailing human companion Schoen details the ways in which the human-animal bond can provide a wellspring of love and support, and outlines his own special prescription for improving the care we give our animals through adopting simple healing practices at home. A remarkable new synthesis of science and spirit, Kindred Spirits at last reveals the many ways our animal friends can help us lead happier, healthier, more fulfilling lives.
About the Author
Allen M. Schoen, D.V.M., M.S., is a pioneer in natural veterinary medicine and the human-animal bond. One of the most sought-after doctors of veterinary medicine in the nation, he lectures at conferences and retreats worldwide, and is the author of three other books, including Love, Miracles, and Animal Healing. An adjunct professor at Tufts University School of Veterinary Medicine and an affiliate faculty member at Colorado State University College of Veterinary Medicine, he lives in Sherman, Connecticut.
Praise For Kindred Spirits: How the Remarkable Bond Between Humans and Animals Can Change the Way We Live…
"Kindred Spirits will touch the depths of your emotions and beliefs, and in doing so, will change the way you live. Read, learn, and open your heart to the animals with whom we share a kinship, and whose stories are shared so beautifully here."
–Bernie Siegel, M.D., author of Love, Medicine & Miracles and Prescriptions for Living

"The bond between animals and humans can improve both physical and mental health, and in Kindred Spirits, Allen Schoen explores the nature of that bond and shows how the techniques of alternative medicine can help both pets and their owners. I learned a lot from reading it." –Andrew Weil, author of Eating Well for Optimum Health

"Kindred Spirits is an eloquent, moving exploration of a belief I have long held–that animals and humans are intimately connected, and that we do ourselves and our animal friends a disservice when we underestimate the special bond that exists between us. It is a powerful prescription for life in the twenty-first century." –Dr. Jane Goodall, author of In the Shadow of Man and Through a Window: My Life with Chimpanzees

Advertisement