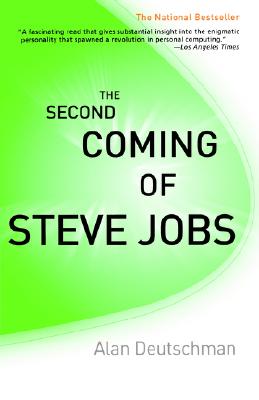 The Second Coming of Steve Jobs (Paperback)
Crown Business, 9780767904339, 352pp.
Publication Date: September 11, 2001
* Individual store prices may vary.
or
Not Currently Available for Direct Purchase
Description
From the acclaimed Vanity Fair and GQ journalist-an unprecedented, in-depth portrait of the man whose return to Apple precipitated one of the biggest turnarounds in business history. With a new epilogue on Apple's future survival in today's roller-coaster economy, here is the revealing biography that blew away the critics and stirred controversy within industry and media circles around the country.
About the Author
Alan Deutschman is a contributing editor at Vanity Fair. For the past twelve years, he has covered business and technology. He was a correspondent for Fortune for seven years, a senior writer at GQ, and a contributing editor at New York magazine. His articles have appeared in the New York Times Magazine, Wired, Premiere, and Fast Company. He lives in San Francisco.
Praise For The Second Coming of Steve Jobs…
"Great Read. One of the keenest observers of the business and culture of Silicon Valley sets his sights on one of the most remarkable stories in the recent history of Silicon Valley."
--Fast Company

"A carefully sketched portrait of a paradoxical man…reads like a novel and has the scope of Ben Hur. And it's the strangest of high-tech industry books it's good."
--Business 2.0

"Deutschman illuminates the attributes that have made Jobs not only a success but also an influential innovator in two major industries. THE SECOND COMING…includes fascinating details about Jobs…anyone interested in the culture of Silicon Valley should find it well worth a read."
--San Francisco Chronicle

"Deutschman, in a mere 301 pages, rips a hole in Jobs that can only be compared to the fatal tear in the Hindenburg."
--Forbes.com

"A fascinating portrait of the Apple Computer founder…A mesmerizing, outstanding read, this book crackles with energy. Some of the passages will make your mouth drop open."
--Dallas Morning News

"Alan Deutschman's delicious Steve Jobs biography is a psychological profile with a fruit-flavored iMac punch line. The book is a pleasure to read, but not surprisingly, Jobs wishes you wouldn't."
--Chicago Sun Times
Advertisement