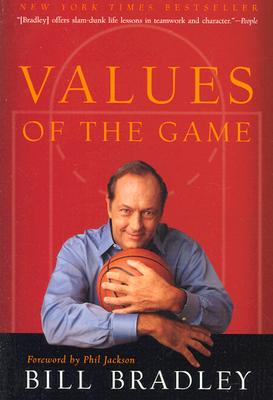 Values of the Game (Paperback)
Crown Business, 9780767904490, 96pp.
Publication Date: January 4, 2000
* Individual store prices may vary.
Description
As the Presidential run heats up with the start of the primary season in New Hampshire on February 2, the attention to the candidates and their issues will become even more intense.  Values of the Game is an ideal book to understand Bill Bradley, the man and the candidate.  The values that Bill speaks of so frequently during his campaign speeches are reflected in Values of the Game--responsibility, discipline, passion, selflessness and respect.

Bill Bradley, candidate for the Democratic presidential nomination for 2000, former U.S. senator from New Jersey from 1979 to 1997, and a member of two championship New York Knicks teams, returns to the scene of his first career and his first great passion, basketball.

Things have changed since Bradley's championship days, but what separates winners and losers remains very much the same: No collection of players, no matter how good, can win unless they form a team. And no team can succeed unless it shares common values, among them courage, discipline, resilience, respect, and an unmitigated passion for the game. In this highly acclaimed and bestselling book, Bill Bradley offers his vision for how the principles he developed playing basketball can be applied to everyday life, be it at the office, at home, in public life--indeed, in any situation where values matter.

In ten essays, filled with intensely personal observations and reflections, Bradley revisits the basketball court with the fire of the competitor and the eye of the writer and explores these qualities in action: the dynamics of teammates on the court and off, the individual courage to risk the last-second shot, the responsibility to teammates, coaches, and fans to stay in shape, play hard, and honor the game. Values of the Game is one man's vision for a better world, and is a lasting statement of principle and commitment from one of our country's finest leaders.
About the Author
Bill Bradley was a three-time basketball all-American at Princeton, Olympic gold medalist, Rhodes scholar, member of the New York Knicks from 1967 to 1977, and two-time NBA champion; he was elected to the Basketball Hall of Fame in 1982. He served as United States senator from New Jersey from 1979 to 1997. Since leaving the Senate, he has been affiliated with Stanford University, University of Maryland, and Notre Dame. Mr. Bradley is the author of Life on the Run, The Fair Tax, and Time Present, Time Past. He is married and has one daughter and lives in Montclair, New Jersey.
Praise For Values of the Game…
Praise for Values of the Game:

"Bradley offers slam-dunk lessons in teamwork and character."
--People

"Bradley hits nothing but net with Values of the Game. Call it The Book of Virtues meets hardwood."
--USA Today

"[Bradley] has written a love letter to basketball. . . . It is every bit as prescient, thoughtful, and just plain valuable a work as you'd expect from a man who never approaches any task without a full commitment."
--Boston Globe

"This may be the single most important present a parent can give a sports-loving child."
--Dallas Morning News

"The sensitivity of Bradley's writing is a reflection of his feeling for the game that defined him as a person."
--New York Newsday

"Bradley's breathless love for the game makes this a sentimental journey worth taking."
--Newsweek
or
Not Currently Available for Direct Purchase