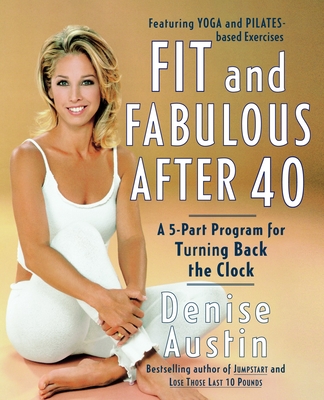 Fit and Fabulous After 40: A 5-Part Program for Turning Back the Clock (Paperback)
A 5-Part Program for Turning Back the Clock
Harmony, 9780767904728, 320pp.
Publication Date: May 14, 2002
Description
America's favorite fitness expert presents a breakthrough program to win the war against aging a battle she has personally fought and won.

We all know that aging is inevitable but how gracefully you age is up to you. Scientific research shows that we can turn back the clock through a targeted regimen of age-busting exercise and nutrition. Now, in Fit and Fabulous After 40, award-winning fitness expert Denise Austin presents her own revolutionary, sure-fire plan to help you stay healthy, strong, slim, and fabulous no matter what your age By exercising for just thirty minutes a day, using cutting-edge techniques such as yoga and Pilates-based exercises, and eating for maximum health and vitality, you can build strength, shed extra pounds, improve flexibility and balance, and look years younger. Fit and Fabulous After 40 includes:
Easy-to-follow workout plans for every day of the week
Fat-blasting, toning exercises to target specific areas of the body
Weekly nutrient-packed meal plans with delicious slimming recipes
Denise's personal vitamin and supplement regimen
Invaluable advice on common health concerns for women, such as menopause, breast cancer, and heart disease
Special beauty tips including anti-wrinkle exercises
Designed to fit even the most hectic schedules, and easily tailored to individual health concerns, Fit and Fabulous After 40 offers a modern, realistic fountain of youth for every woman.
About the Author
DENISE AUSTIN is the host of Lifetime Television s Denise Austin s Fit and Lite and Denise Austin s Daily Workout, the number-one daily fitness show in America. The creator of more than thirty bestselling exercise videos and the author of the national bestsellers Jumpstart, Hit the Spot!, and Lose Those Last 10 Pounds, she had written for the Washington Post and Healthy Living magazine. She has been twice appointed Chairman of the Virginia Governor's Commission on Physical Fitness and Sports and was awarded the title of Healthy American Fitness Leader by the President's Council on Fitness and Sports. She lives outside Washington, D.C., with her husband and two daughters."
Advertisement