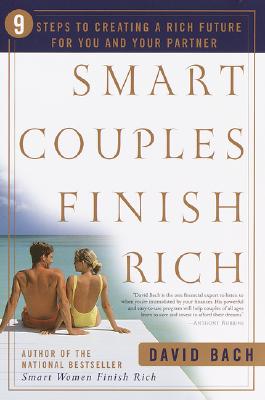 Smart Couples Finish Rich (Hardcover)
9 Steps to Creating a Rich Future for You and Your Partner
Crown Business, 9780767904834, 320pp.
Publication Date: March 6, 2001
Other Editions of This Title:
Paperback (1/9/2018)
Paperback (1/8/2002)
* Individual store prices may vary.
Description
Fighting about money is the #1 reason for divorce in America. From first-time newlyweds at the start of new careers to people marrying later in life or on their second or third marriage, couples face an overwhelming task when creating and managing a two-income household. Most couples find themselves frustrated when it comes to combining their complex financial histories, and, as a result, both their relationships and bank accounts can suffer.
David Bach, nationally renowned financial advisor and author of the bestselling Smart Women Finish Rich, knows that it doesn't have to be this way. After years of first-hand experience working with couples young and old, David Bach reveals that through communication and partnership, planning your finances together can be both fun and easy when you have the right tools.
In Smart Couples Finish Rich, David Bach offers couples a step-by-step guide to building and maintaining financial wealth for years to come. Instead of avoiding each other when it comes time to balance the checkbook, you and your partner will learn how to come together and identify your core values and dreams, creating a spending and saving plan that reflects your values as a couple. Packed with easy-to-use tools that will take you from credit-card management to long-term care, each chapter will guide you and your partner as a team toward a more rewarding financial plan based on the same overall financial objectives.
The Smart Couples Finish Rich nine-step journey provides every couple with strategies for organization, communication, and smarter spending that you can put into action immediately. This journey reveals:
* The Couples' Latte Factor -- how to build a million-dollar portfolio on $3.50 a day
* How to talk to your partner about money without fighting
* How to increase your income by 10 percent in nine weeks
* The FinishRich File Folder System -- giving yourself a financial clean-up
* The 10 biggest mistakes couples can make
A book for couples of all ages and all tax brackets, Smart Couples Finish Rich is the ultimate guide for creating a lifetime of wealth--both personal and financial.
About the Author
A senior vice president of a major New York brokerage firm, David Bach is a partner of The Bach Group, which manages over a half-billion dollars of individual investors' money. The national bestselling author of Smart Women Finish Rich, Bach is the host of his own television special, "Smart Women Finish Rich," airing on PBS nationwide. His investment principles are taught nationally through his Smart Women Finish Rich workshops, which are currently being hosted by 5,000 financial advisors in 1500 cities with over 100,000 attendees annually. He lives in San Francisco, California with his wife, Michelle. Please visit his website at www.finishrich.com.
Praise For Smart Couples Finish Rich: 9 Steps to Creating a Rich Future for You and Your Partner…
"David Bach is the one financial expert to listen to when you're intimidated by your finances. His powerful and easy-to-use program will help couples of all ages learn to save and invest to afford their dreams."
--Anthony Robbins, author of Awaken the Giant Within and Unlimited Power
or
Not Currently Available for Direct Purchase