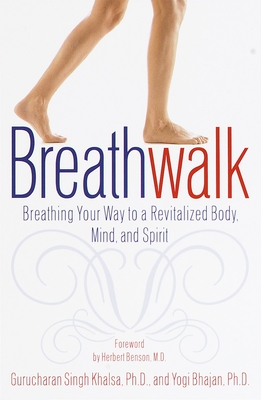 Breathwalk: Breathing Your Way to a Revitalized Body, Mind and Spirit (Paperback)
Breathing Your Way to a Revitalized Body, Mind and Spirit
Harmony, 9780767904933, 304pp.
Publication Date: June 13, 2000
Description
Breathing and walking comprise two of our simplest activities, yet they are also two of our most powerful actions. By bringing them together in a systematic and meditative way, we can enhance our physical, emotional, and spiritual fitness. We can tap our vitality to fully enjoy and excel in our lives. With a series of easy to follow, transformational exercises that combine breathing and walking in very specific ways for specific benefits, Breathwalk teaches us: how to alleviate exhaustion, anxiety, sadness, and other problems to heal physical, mental, and spiritual conflict in our lives to enter a zone of total fitness within our own bodies and minds In this simple program that anyone can follow, two of the world's leading experts in meditation and kundalini yoga reveal the power and flexibility of this technique for the first time. Centuries old traditions come together with modern scientific research in an effective and enjoyable holistic way to exercise. This practical, insightful guide is a breath of fresh air that can change your life for the better every time you take a step.
About the Author
Gurucharan Singh Khalsa, Ph.D., is an expert in the mind, a yogi, psychotherapist, teacher, and writer. He is president of a business consulting firm, Khalsa Consultants, Inc., and has taught kundalini yoga with Yogi Bhajan for over thirty years. He lives in Millis, Massachusetts. Yogi Bhajan, Ph.D., is a Master of kundalini and tantric yoga. He is the spiritual leader of the Sikh religion in the Western Hemisphere. He inspired the creation of the family of Golden Temple natural products, including Yogi Tea and Peace Cereals. He lives in Espanola, New Mexico.
Praise For Breathwalk: Breathing Your Way to a Revitalized Body, Mind and Spirit…
"For the last five years, I have invited Gurucharan to teach breathwalking to several thousand of my students from forty-five foreign countries around the world.  The techniques and practice of breathwalking create vitality and an alternative to traditional forms of exercise that can result in profound health through oxygenation to the body.  It's part of my regimen and I recommend it wholeheartedly!"
--Anthony Robbins, author of Awaken the Giant Within and Unlimited Power
Advertisement