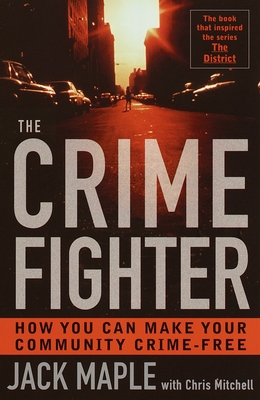 The Crime Fighter: How You Can Make Your Community Crime Free (Paperback)
How You Can Make Your Community Crime Free
Broadway Books, 9780767905541, 272pp.
Publication Date: October 17, 2000
Description
Former NYPD Deputy Commissioner Jack Maple was a man in a bow tie and homburg--he was also on a mission to revolutionize the way crime is fought: how cops go after crooks, and how they prevent crime in the first place. And he succeeded.
But Maple is not satisfied. In The Crime Fighter, he shows how crime can be attacked all across America. Laced with fascinating, incredible, and often very funny tales of Maple's adventures as a cop, the book is as entertaining as it is informative. Anyone interested in how criminals think and act, and how the police should do their jobs, will devour this absorbing book.
About the Author
Jack Maple began his career as a New York City Transit Patrolman and rose to become Deputy Commissioner of the NYPD. Since leaving the department, he has served as a consultant to police departments worldwide. He lives in New York City. Chris Mitchell, a writer and reporter, lives in Brooklyn with his wife and daughter. From the Hardcover edition.
Praise For The Crime Fighter: How You Can Make Your Community Crime Free…
"Maple will leave you cheering as he scores victories over hack police brass, cheap politicians, and most importantly for the rest of us, himself. Book him."
-- Dennis Hamill, New York Daily News Columnist, Author of Three Quarters and Throwing 7's

"Cops and crooks--nobody knows them better than Jack Maple; and nobody has ever told their story quite like the 'Jackster.' He's been where the truth is stranger than fiction, and The Crime Fighter puts you right beside him."
-- William J. Bratton, Former New York City Police Commissioner

"Jack Maple is the people's cop. He has spent his life making all our lives safer. It's all in this book. A great read and a manual for policing in the new millennium."
-- Terry George and Jim Sheridan, Writers/Directors In the Name of the Father, Some Mother's Son, The Boxer

"Jack Maple is this country's outstanding thinker about fighting crime in our cities. Anyone concerned with making our cities safer should read this very important, very practical, and very witty book."
-- John F. Timoney, Police Commissioner,Philadelphia Police Department
Advertisement