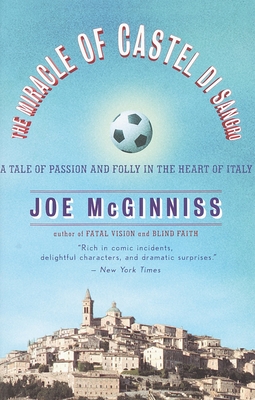 The Miracle of Castel di Sangro (Paperback)
A Tale of Passion and Folly in the Heart of Italy
Broadway Books, 9780767905992, 416pp.
Publication Date: June 6, 2000
* Individual store prices may vary.
Description
Master storyteller Joe McGinniss travels to Italy to cover the unlikely success of a ragtag minor league soccer team--and delivers a brilliant and utterly unforgettable story of life in an off-the-beaten-track Italian village.

When Joe McGinniss sets out for the remote Italian village of Castel di Sangro one summer, he merely intends to spend a season with the village's soccer team, which only weeks before had, miraculously, reached the second-highest-ranking professional league in the land. But soon he finds himself embroiled with an absurd yet irresistible cast of characters, including the team's owner, described by the New York Times as "straight out of a Mario Puzo novel," and coach Osvaldo Jaconi, whose only English word is the one he uses to describe himself: "bulldozer."  

As the riotous, edge-of-your-seat season unfolds, McGinniss develops a deepening bond with the team, their village and its people, and their country. Traveling with the miracle team, from the isolated mountain region where Castel di Sangro is located to gritty towns as well as grand cities, McGinniss introduces us to an Italy that no tourist guidebook has ever described, and comes away with a "sad, funny, desolating, and inspiring story--everything, in fact, a story should be" (Los Angeles Times).
About the Author
Joe McGinniss was a young Philadelphia journalist when he began to follow the team of public relations men and television specialists who created Richard Nixon's image for the American public during the presidential campaign of 1968. In 1969, with the publication of The Selling of the President, Joe McGinnis immediately became a nonfiction star of the first rank. His other books include Heroes, Going to Extremes, Fatal Vision, Cruel Doubt, and a novel, The Dream Team. He lives in Williamstown, Massachusettes.
Praise For The Miracle of Castel di Sangro: A Tale of Passion and Folly in the Heart of Italy…
"Rich in comic incidents, delightful characters, and dramatic surprises"
--New York Times

"What McGinniss recounts in this wonderful memoir is the stuff of Italian opera--passion, buffoonery, courage, treachery, and tragedy."
--Dallas Morning News

"Soccer acts as a lens through which the author sees the real Italy, the medium-sized industrial towns where people live and work, away from the tourist's gaze. McGinniss went looking for a soccer team and found lives filled with humor and tragedy."
--The Wall Street Journal

"A classic of cultures colliding."
--The Independent