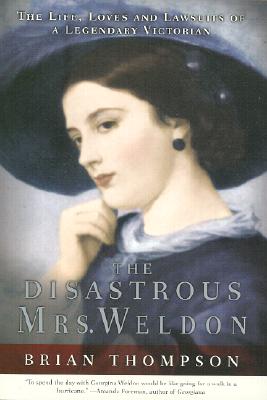 The Disastrous Mrs. Weldon: The Life, Loves and Lawsuits of a Legendary Victorian (Paperback)
The Life, Loves and Lawsuits of a Legendary Victorian
Broadway Books, 9780767906357, 368pp.
Publication Date: March 12, 2002
* Individual store prices may vary.
or
Not Currently Available for Direct Purchase
Description
Born to fanatically snobbish Victorian parents, Georgina Weldon grew up to wreak havoc on almost everyone she met. She was supposed to marry well and restore the family fortune, but soon proved to have other ideas. Her scandalous affair with a married man and her defiant marriage to the less-than-prosperous young hussar officer Harry Weldon were just the first signs that she was no ordinary girl. In a plot that could have been constructed by Dickens himself, Georgina acquired a string of lovers, was stung by con artists, betrayed by her parents, and narrowly escaped being committed to a mental institution. She rose to the challenge and became one of the first Victorian women to represent herself in court and later helped to overturn England's infamous Lunacy Laws. Like the best Victorian novels, The Disastrous Mrs. Weldon marries the adventures of an intrepid protagonist with delightfully revealing glimpses of Victorian society. A tale of sex and scandal, bravado and bravery, Mrs. Weldon's life is wild, wicked, and totally irresistible.
About the Author
Brian Thompson has written for the stage, radio, television, and is the author of four novels. He divides his time between Oxford, England, and the South of France.
Praise For The Disastrous Mrs. Weldon: The Life, Loves and Lawsuits of a Legendary Victorian…
"[Mrs. Weldon's] story is so fantastically melodramatic that it might have been penned by one of the sensationalist novelists so popular among her Victorian contemporaries." –Publishers Weekly

"Elegant in style, at once sensational and substantial in content, this book is a surprise and a delight."
–Lucy Hughes-Hallet, London Sunday Times

"If it would take a heart of stone not to laugh at Mrs. Weldon's disastrous career, it is impossible not to admire the splendor of her ambitions and the sheer hubris of a woman who could bring twenty-five cases to court in a single year and represent herself in twenty-two of them."
–Miranda Seymour, London Times Literary Supplement

Advertisement