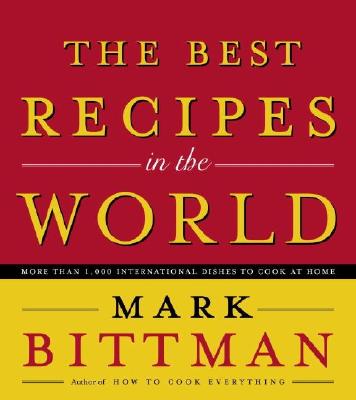 The Best Recipes in the World
Hardcover

* Individual store prices may vary.
Description
With his million-copy bestseller How to Cook Everything, Mark Bittman made the difficult doable. Now he makes the exotic accessible.

In this highly ambitious, accomplished, globe-spanning work, Bittman gathers the best recipes that people from dozens of countries around the world cook every day. And when he brings his distinctive no-frills approach to dishes that were once considered esoteric, America's home cooks will eagerly follow where they once feared to tread.

In more than a thousand recipes, Bittman compellingly demonstrates that there are many places besides Italy and France to which cooks can turn for inspiration. In addition to these favorites, he covers Spain, Portugal, Greece, Russia, Scandinavia, the Balkans, Germany, and other European destinations, giving us easy ways to make dishes like Spanish Mushroom and Chicken Paella, Greek Roast Leg of Lamb with Thyme and Orange, Russian Borscht, and Swedish Äppletorte.

Asian food now rivals European cuisine's popularity, and this book reflects that: It's the first to emphasize European and Asian cuisines equally, with easy-to-follow recipes for favorites like Vietnamese Stir-Fried Vegetables with Nam Pla, Pad Thai, Japanese Salmon Teriyaki, Chinese Black Bean and Garlic Spareribs, and Indian Tandoori Chicken. Nor is the rest of the world ignored: there are hundreds of recipes from North Africa, the Middle East, and Central and South America, too. All will be hits with home cooks looking to add exciting new tastes and cosmopolitan flair to their everyday repertoire.

Shop locally, cook globally–Mark Bittman makes it so easy:

• Hundreds of recipes that can be made ahead or prepared in under 30 minutes

• Informative sidebars and instructional drawings explain unfamiliar techniques and ingredients

• Fifty-two international menus, an extensive International Pantry section, and much more make this an essential addition to any cook's shelf

The Best Recipes in the World is destined to be a classic that will change the way Americans think about everyday food. It's simply like no other cookbook in the world.
Praise For The Best Recipes in the World…
"A brilliant project, a beautiful book, a must for any kitchen. Bravo Mark!" 
—Lidia Bastianich, author of Lidia's Italian-American Kitchen and Lidia's Family Table

"I know of only one person who could put together such a treasury of the best recipes in the world: Mark Bittman. The man is an encyclopedia of food and food knowledge and only Mark could compile a collection of such breadth and depth. And I am envious because I know Mark sampled every single one of these recipes."
—José Andrés, author of Tapas: A Taste of Spain in America and Bon Appétit's Chef of the Year for 2004
 
 "The amount of research and recipe testing that went into compiling this cookbook is awe-inspiring. The end result is a brilliant anthology of world cuisine—global recipes that are delicious and, in the best Mark Bittman tradition, easily recreated at home with minimum fuss but maximum flavor."
—Daniel Boulud

"Mark Bittman is among our most important and influential food writers. I respect his work enormously, which is why I'm greatly looking forward to cooking from his new book, a collection of recipes that would take me a decade to discover on my own."  
—Paula Wolfert, author of Mediterranean Cooking and Couscous and Other Good Food from Morocco 

"Mark gets Indian cuisine, and probably just about every other. He understands the world's home cooks and translates their spirit perfectly here."
—Suvir Saran, author of Indian Home Cooking
Clarkson Potter, 9780767906722, 768pp.
Publication Date: October 11, 2005
About the Author
Bestselling author Mark Bittman's "How to Cook Everything" is the standard for basic cookbooks, a five-time award winner that has sold over a million copies. He is among the country's best-known and widely admired food writers, the creator of the popular "New York Times" weekly column, "The Minimalist," and the author of two books with internationally celebrated chef Jean-Georges Vongerichten. Bittman's other books include the award-winning "Fish: The Complete Guide to Buying and Cooking," and Minimalist cookbook series: "The Minimalist Cooks at Home," "The Minimalist Cooks Dinner," and "The Minimalist Entertains."

Mark Bittman's television show," How to Cook Everything: Bittman Takes on America's Chefs," appears on public television stations across the country, and he is a regular guest on the "Today" show and National Public Radio's "All Things Considered."
or
Not Currently Available for Direct Purchase