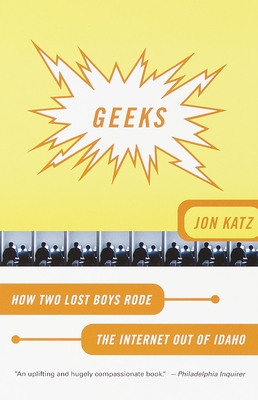 Geeks (Paperback)
How Two Lost Boys Rode the Internet Out of Idaho
Broadway Books, 9780767906999, 256pp.
Publication Date: February 20, 2001
* Individual store prices may vary.
Description
Jesse and Eric were geeks: suspicious of authority figures, proud of their status as outsiders, fervent in their belief in the positive power of technology. High school had been an unbearable experience and their small-town Idaho families had been torn apart by hard times. On the fringe of society, they had almost no social lives and little to look forward to. They spent every spare cent on their computers and every spare moment on-line. Nobody ever spoke of them, much less for them.

But then they met Jon Katz, a roving journalist who suggested that, in the age of geek impresario Bill Gates, Jesse and Eric had marketable skills that could get them out of Idaho and pave the way to a better life. So they bravely set out to conquer Chicago—geek style. Told with Katz's trademark charm and sparkle, Geeks is a humorous, moving tale of triumph over adversity and self-acceptance that delivers two irresistible heroes for the digital age and reveals the very human face of technology.
About the Author

Jon Katz is the author of Running to the Mountain and Virtuous Reality, as well as six novels. He has written for Wired, New York, GQ, Hotwired, and the New York Times and was twice nominated for the National Magazine Award for articles in Rolling Stone. He writes for Slashdot.org and the Freedom Forum's website "Free!" on the Web. He lives in Montclair, New Jersey with his wife, Paula Span. He can be e-mailed at jonkatz@slashdot.org.


From the Hardcover edition.
Praise For Geeks: How Two Lost Boys Rode the Internet Out of Idaho…
Praise for A Dog Year

"A great book that dog lovers will definitely enjoy."
–Booklist

"The story line of Katz's latest book can be summed up very simply–two dogs die and two new ones join the family
but its charm comes from an intricate blend of witty anecdote and touching reflection."
–Publishers Weekly

"A surfeit of tail-wagging, face-licking love."
–Kirkus Reviews

Praise for Running to the Mountain

"A wonderful book — personal, moving, funny… to call a book a perfect gift always seems slightly patronizing, but I already have a long list of names — yes aging baby boomers — I'm intending to give Running to the Mountain."
–USA Today

"A funny, moving, and triumphant voyage of the soul… Katz finds faith not by running away, but by realizing that spiritual sustenance comes from within — from the decency with which we handle our roles as spouses, parents, and friends."
–Boston Globe

"You'll love this book…. In the end, we admire Katz, not for the spiritual grace that he seeks but for the grace he finds: the grace of fatherhood, husbandhood, of tending fully to those who depend on him to be a source of stability in their world."
–Men's Journal

"Candid and inspiring… Katz has much to be proud of: he faced himself, he rearranged himself, and he came back to write movingly of the experience."
–Washington Post Book World
Praise for Geeks: How Two Lost Boys Rode the Internet Out of Idaho
"In Geeks, Katz displays a deft reporter's touch and shows us the geek truth, rather than simply telling us about it…. Too often, writing about the on-line world lacks emotional punch, but Katz's obvious love for his 'lost boys' gives his narrative a rich taste."
-New York Times Book Review

"Geeks is a story of triumph, friendship, love, and above all, about being human and reaching for dreams in a hard-wired world."
-Seattle Times

"A touching page-turner about social outcasts using technology to wriggle free of dead-end lives."
-U.S. News & World Report

"An uplifting and hugely compassionate book."
-Philadelphia Inquirer