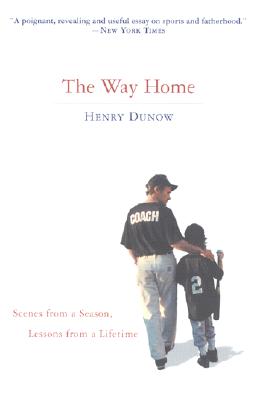 The Way Home (Paperback)
Scenes from a Season, Lessons from a Lifetime
Broadway Books, 9780767907347, 272pp.
Publication Date: May 14, 2002
* Individual store prices may vary.
Description
When Henry Dunow signs up to coach his son Max's Little League team on Manhattan's Upper West Side, he finds himself looking back on his own childhood and his father, Moishe, a Yiddish writer and refugee from Hitler's Europe, who had considered recreation like playing catch with his son narishkeit, "foolishness." Determined to be a different kind of parent to his first grader, Dunow bumbles through a self-test of fatherhood on the scruffy fields of New York's Riverside Park, playing coach, cheerleader, father, and friend to a ragtag bunch of seven-year-olds, many of whom are discovering baseball for the first time. The Way Home is the affecting and ironic story of Dunow's journey of discovery as he watches his relationship with Max evolve over the course of a Little League season, and comes to understand what being a father to his son can teach him about the man who was his own father.
About the Author
Henry Dunow is a literary agent who lives in New York with his wife, Wendy, and their twins, Max and Madeleine.
Praise For The Way Home: Scenes from a Season, Lessons from a Lifetime…

"A poignant, revealing and useful essay on sports and fatherhood." –Robert Lipsyte, New York Times

"A beautiful book . . . will strike a universal chord in anyone who ever played ball in the backyard, had a kid in Little League, or rooted for a professional team." –Associated Press

"The Way Home is a lovely book, a witty and heartfelt homage to unlikely heroes." –Philadelphia Inquirer

"Henry Dunow's The Way Home follows in the worthy tradition of Donald Hall's Fathers Playing Catch with Sons, with a lively spicing of Sholem Aleichem. An unusual and worthwhile story." –Roger Kahn, author of The Boys of Summer
or
Not Currently Available for Direct Purchase