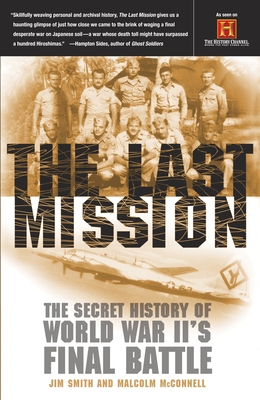 The Last Mission: The Secret History of World War II's Final Battle (Paperback)
The Secret History of World War II's Final Battle
Broadway Books, 9780767907798, 384pp.
Publication Date: May 6, 2003
Description
A gripping account of the final American bombing mission of World War II and how it prevented a military coup that would have kept Japan in the war.
How close did the Japanese come to not surrendering to Allied forces on August 15, 1945? "The Last Mission "explores this question through two previously neglected strands of late--World War II history, whose very interconnections could have caused a harrowing shift in the course of the postwar world. On the final night of the war, as Emperor Hirohito recorded a message of surrender for the Japanese people, a band of Japanese rebels, commanded by War Minister Anami's elite staff, burst into the palace. They had plotted a massive coup that aimed to destroy the recordings of the Imperial Rescript of surrender and issue false orders forged with the Emperor's seal commanding the widely dispersed Japanese military to continue the war. If this rebellion had succeeded, the military would have proceeded with large-scale kamikaze attacks on Allied forces, costing huge casualties and just possibly provoking the Americans to drop a third atomic bomb on Japan over Tokyo-and continue to drop more bombs as Japanese resistance stiffened.
Meanwhile, in the midst of an "end-of-war" celebration on Guam, Air Force radio operator Jim Smith and his fellow crewmen received urgent orders for a bombing mission over Japan's sole remaining oil refinery north of Tokyo. As a stream of American B-29B bombers approached Tokyo, Japanese air defenses, fearing the approaching planes signaled the threat of a third atomic bomb, ordered a total blackout in Tokyo and the Imperial Palace, completely disrupting the rebels' plans. Smith and his fellow crewmembers completed the mission, and a few hours later, the Emperor announced the surrender over Japan's airwaves, dictating the end of the war.
"The Last Mission "is an insightful piece of speculative investigation that combines narrative storytelling with historical contingency and explores how two seemingly unrelated events could have profoundly changed the course of modern history.
"From the Hardcover edition.
About the Author
JIM SMITH served with the 315th Bomb Wing, 20th Air Force during, World War II, where he was a radio operator of a B-29B bomber named "The Boomerang." He has researched "The Last Mission" for more than twenty years. MALCOLM McCONNELL is the author or coauthor of twenty-three books, many of them on military subjects. He most recently cowrote "Born to Fly" with Navy pilot Shane Osborn. He lives near Washington, D.C. "From the Hardcover edition."
Advertisement