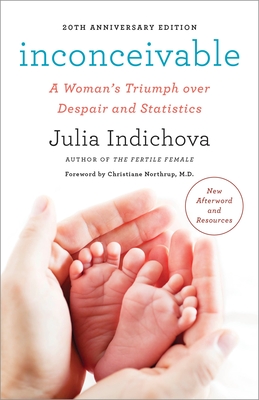 Inconceivable: A Woman's Triumph Over Despair and Statistics (Paperback)
A Woman's Triumph Over Despair and Statistics
Harmony, 9780767908207, 224pp.
Publication Date: October 9, 2001
Description
A memoir of hope for the thousands of women struggling with infertility, from one who beat the odds by simply tuning in to her body and tapping her well of sheer determination.

At a time when more and more women are trying to get pregnant at increasingly advanced ages, fertility specialists and homeopathic researchers boast endless treatment options. But when Julia Indichova made the rounds of medical doctors and nontraditional healers, she was still unable to conceive a child. It was only when she forsook their financially and emotionally draining advice, turning inward instead, that she finally met with reproductive success. Inconceivable recounts this journey from hopeless diagnoses to elated motherhood. Anyone who has faced infertility will relate to Julia's desperate measures: acupuncture, unidentifiable black-and-white pellets, herb soup, foul-smelling fruit, even making love on red sheets. Five reproductive endocrinologists told her that there was no documented case of anyone in her hormonal condition getting pregnant, forcing her to finally embark on her own intuitive regimen. After eight caffeine-free, nutrient-rich, yoga-laden months, complemented by visualization exercises, Julia received amazing news; incredibly, she was pregnant. Nine months later she gave birth to a healthy girl. Unlike the many infertility books that take a clinical "how to" approach, Inconceivable simply professes the wisdom of giving expert status back to the patient. Julia's self-discovery, and her ability to see her body as an ally once again, yield a beautiful message about the importance of honoring the body's innate powers, and the power of life itself.
About the Author
JULIA INDICHOVA is the founder of FertileHeart.com, one of the few independent fertility related advocacy groups with a global community of patients and healthcare providers. The website offers a wide range of support services such as studies, Guest Teacher Teleconferences, and ongoing fertility -support-circles for US residents as well as European and international participants. Indichova's work and story have been featured on the The Oprah Winfrey Show, Good Morning America, Oxygen, and NPR's 51%, as well as in in Natural Health, San Francisco Chornicle, People magazine, Health magazine, USA Weekend, and other outlets. Her second book The Fertile Female: How the Power of Longing for a Child Can Save Your Life and Change the World documents her original mind-body program The Fertile Heart(TM) Ovum Practice developed through a decade of and a half of counseling and research.
Advertisement