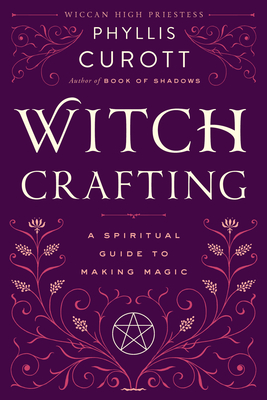 Witch Crafting (Paperback)
A Spiritual Guide to Making Magic
Harmony, 9780767908450, 352pp.
Publication Date: September 10, 2002
* Individual store prices may vary.
Description
The author of Book of Shadows digs deep into the practices and principles of Witchcraft to provide a comprehensive guidebook that anyone—novices and seasoned practitioners alike—can use to incorporate the beauty and power ofWicca into their own daily lives.

Phyllis Curott's first book, Book of Shadows, was an inspirational, spiritual memoir that chronicled her journey from Ivy League-educated, New York City attorney to Wiccan High Priestess. By inviting readers of all faiths to share in her own personal transformation, Phyllis debunked many of the myths surrounding Wicca and revealed it for what it really is: a spiritual movement whose tenets of Goddess worship and reverence for Nature were a great deal more accessible and familiar than she'd ever expected.

Far from being just another mechanical spell book, Witch Crafting is the first book to offer readers not only the how-to of Witchcraft, but also the why-to, explaining the profound spiritual tenets behind Wiccan techniques. Filled with both traditional and innovative shamanic practices, Phyllis also provides an empowering new definition of magic and reexamines the ethics under which Witchcraft is practiced, offering a groundbreaking alternative to the Threefold Law. With enchanting stories from Curott's own experiences, Witch Crafting will also teach you how to:

• Master the secret arts of effective spellcasting
• Create sacred space and personal rituals
• Perform divinations for spiritual insight and earthly success
• Tap into the power of altered states, such as dreaming, meditation, prayer, and trance
• Keep a magical journal and create your own Book of Shadows

Rich with detailed advice for making magic, working with Nature, and finding the Divine within, as well as thought-provoking evaluations of this remarkable spirituality, Witch Crafting is the special volume that you've been searching for. Whether you are a beginner or have been practicing Witchcraft for years, whether you worship in a coven or on your own, Witch Crafting is the ideal handbook for you, or anyone seeking to unlock the divine power that makes real magic happen and experience the ecstasy, energy, and gifts of the Universe more fully.
About the Author
Wiccan High Priestess Phyllis Curott is an attorney and the author of Book of Shadows. She was named one of the Ten Gutsiest Women of the Year by Jane magazine in 1999 and was a finalist for the Walter Cronkite Faith and Freedom Award in 2000. A Priestess for more than twenty years and founder of the Temple of Ara, she has been widely profiled in the media, lectures frequently around the globe and is widely respected for her work promoting civil rights and religious freedom. She lives in New York City and on the East End of Long Island.
Praise For Witch Crafting: A Spiritual Guide to Making Magic…
"Witch Crafting is a clever, down-to-earth guide to making magick a reality in the 9-5 world. In witty, wise, and warm fashion, Currot has witchcrafted a treasure trove of foundational information that will be cherished by readers for many years."
--Patricia Telesco, author of The Wiccan Book of Ceremonies and Rituals and Your Book of Shadows: How to Write Your Own Magickal Spells

"In her latest book Phyllis Curott takes your hand and leads you into the realms of magick where anything is possible. Passion and beauty resonate in this exciting, extremely relevant and important work."
--Fiona Horne, author of Witch: A Magickal Journey
or
Not Currently Available for Direct Purchase