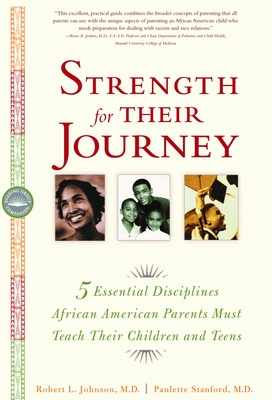 Strength for Their Journey: 5 Essential Disciplines African-American Parents Must Teach Their Children and Teens (Paperback)
5 Essential Disciplines African-American Parents Must Teach Their Children and Teens
Harlem Moon, 9780767908757, 304pp.
Publication Date: October 1, 2002
Description
The result of more than twenty years' collaborative work focusing on the heart of successful parenting, the acclaimed five disciplines program developed by Drs. Robert L. Johnson and Paulette Stanford has helped thousands of African-American children and their parents cope with the myriad of social challenges they confront each day. Now making this special prescription available to all parents, Strength for Their Journey offers insight into five interconnected areas:
- Traditional Discipline: The Strength to Embrace Parental Boundaries
- Racial Discipline: The Strength to Negotiate the Realities of Being a Racial Minority
- Emotional Discipline: The Strength to Resist Negative Peer Pressure and Temptation
- Practical Discipline: The Strength to Excel in School, Career, and Financial Pursuits
- Mind-Body Discipline: The Strength to Maintain Positive Physical, Mental, and Spiritual Health
In a culture that often grants fewer safety nets to nonwhite children, Strength for Their Journey is a crucial book that African-American parents can turn to again and again, paving a path of confidence and joy for future generations.
About the Author
ROBERT L. JOHNSON, M.D., is a nationally recognized authority on African American youth and has been featured on numerous news shows, from -20/20- to -The O'Reilly Factor.- He is also a member of the planning board for the U.S. Surgeon General's Report on Youth Violence, serves as medical and cultural advisor for -ER, - and lectures extensively throughout the country. Also a frequent guest speaker in the media and at workshops, PAULETTE STANFORD, M.D., is the medical director of START, an adolescent-HIV program. She is also the principal investigator for a National Institute of Health research and study on high-risk adolescent behavior. Both authors live in New Jersey, and are professors at the Universiity of Medicine and Dentistry of New Jersey (UMDNJ).
Advertisement