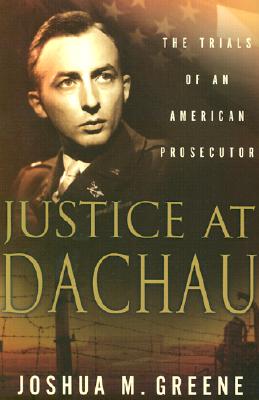 Justice at Dachau: The Trials of an American Prosecutor (Hardcover)
The Trials of an American Prosecutor
Broadway Books, 9780767908795, 400pp.
Publication Date: April 8, 2003
* Individual store prices may vary.
or
Not Currently Available for Direct Purchase
Description
The world remembers Nuremberg, where a handful of Nazi policymakers were brought to justice, but nearly forgotten are the proceedings at Dachau, where hundreds of Nazi guards, officers, and doctors stood trial for personally taking part in the torture and execution of prisoners inside the Dachau, Mauthausen, Flossenburg, and Buchenwald concentration camps. In Justice at Dachau, Joshua M. Greene, maker of the award winning documentary film Witness: Voices from the Holocaust, recreates the Dachau trials and reveals the dramatic story of William Denson, a soft-spoken young lawyer from Alabama whisked from teaching law at West Point to leading the prosecution in the largest series of Nazi trials in history.

In a makeshift courtroom set up inside Hitler's first concentration camp, Denson was charged with building a team from lawyers who had no background in war crimes and determining charges for crimes that courts had never before confronted. Among the accused were Dr. Klaus Schilling, responsible for hundreds of deaths in his "research" for a cure for malaria; Edwin Katzen-Ellenbogen, a Harvard psychologist turned Gestapo informant; and one of history's most notorious female war criminals, Ilse Koch, "Bitch of Buchenwald," whose penchant for tattooed skins and human bone lamps made headlines worldwide.

Denson, just thirty-two years old, with one criminal trial to his name, led a brilliant and successful prosecution, but nearly two years of exposure to such horrors took its toll. His wife divorced him, his weight dropped to 116 pounds, and he collapsed from exhaustion. Worst of all was the pressure from his army superiors to bring the trials to a rapid end when their agenda shifted away from punishing Nazis to winning the Germans' support in the emerging Cold War. Denson persevered, determined to create a careful record of responsibility for the crimes of the Holocaust. When, in a final shocking twist, the United States used clandestine reversals and commutation of sentences to set free those found guilty at Dachau, Denson risked his army career to try to prevent justice from being undone.
About the Author
Joshua M. Greene received exclusive access to Denson s personal archives, which included trial transcripts, newspaper clips, and a trove of photographs and letters. Using these, Greene has reconstructed the Dachau trials with the immediacy and excitement of a legal thriller. "Justice at Dachau" resurrects an American hero, a real-life Atticus Finch, and shines a light on a part of World War II that established precedents still used today to bring war criminals to justice."
Praise For Justice at Dachau: The Trials of an American Prosecutor…
"A new American hero--William Denson--bursts forward in the riveting pages of Justice at Dachau. An Alabama human rights lawyer, Denson was sent to Europe by the U.S. Army to prosecute Nazi butchers feigning innocence in the bloody aftermath of the Second World War. Brilliantly written and fastidiously researched, Joshua M. Greene's narrative builds chapter by chapter in dramatic Hollywood-like fashion. Each war criminal Denson convicts brings a cheer to the heart. This is historical storytelling at its finest."
-Douglas Brinkley, Director of the Eisenhower Center for American Studies at the University of New Orleans and co-editor of Witness to America: An Illustrated Documentary History of the United States from the Revolution to Today


"Justice at Dachau is a mesmerizing account of one of history's most infamous periods. Joshua Greene takes the reader back in time by weaving together a riveting narrative of the trial and its central figure, Judge Advocate William Denson, a true hero and humanitarian. This book is destined to be a classic among Holocaust histories."
-Patrick O'Donnell, author of Beyond Valor and Into the Rising Sun
Advertisement