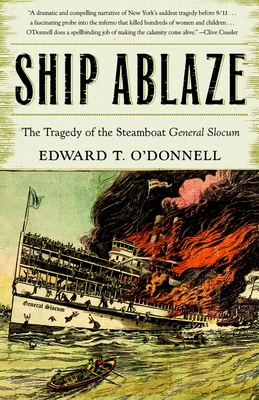 Ship Ablaze: The Tragedy of the Steamboat General Slocum (Paperback)
The Tragedy of the Steamboat General Slocum
Broadway Books, 9780767909068, 332pp.
Publication Date: June 8, 2004
Description
There were few experienced swimmers among over 1,300 Lower East Side residents who boarded the General Slocum on June 15, 1904. It shouldn't have mattered, since the steamship was chartered only for a languid excursion from Manhattan to Long Island Sound. But a fire erupted minutes into the trip, forcing hundreds of terrified passengers into the water. By the time the captain found a safe shore for landing, 1,021 had perished. Ship Ablaze draws on firsthand accounts to examine why the death toll was so high and how the city responded. Masterfully capturing both the horror of the event and the heroism of men, women, and children who faced crumbling life jackets and inaccessible lifeboats as the inferno quickly spread, historian Edward T. O'Donnell brings to life a bygone community while honoring the victims of that forgotten day.
About the Author
Edward T. O'Donnell is an associate professor of history at the College of the Holy Cross in Worcester, Massachusetts. He is the author of several books, including Visions of America and 1001 Things Everyone Should Know About Irish American History. He lives in Holden, Massachusetts with his wife Stephanie, and four daughters, Erin, Kelly, Michelle, and Katherine (and their dog Sammy). To learn more, please visit his website, EdwardTODonnell.com.
Praise For Ship Ablaze: The Tragedy of the Steamboat General Slocum…
"A dramatic and compelling narrative of New York's saddest tragedy before 9/11 . . . a fascinating probe into the inferno that killed hundreds of women and children . . . O'Donnell does a spellbinding job of making the calamity come alive."

—Clive Cussler
"An impressively written account that effectively conveys the horror of New York's second-worst disaster ever."
—Booklist

"Compelling . . . O'Donnell's story is a testament to the strength of a unique people in an equally unique city . . . Unforgettable."

—National Review

Advertisement