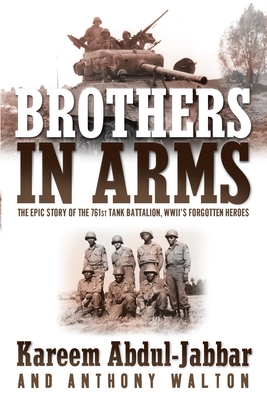 Brothers in Arms: The Epic Story of the 761st Tank Battalion, WWII's Forgotten Heroes (Paperback)
The Epic Story of the 761st Tank Battalion, WWII's Forgotten Heroes
Broadway Books, 9780767909136, 330pp.
Publication Date: May 10, 2005
Description
A powerful wartime saga in the bestselling tradition of Flags of Our Fathers, Brothers in Arms recounts the extraordinary story of the 761st Tank Battalion, the first all-black armored unit to see combat in World War II.
About the Author
KAREEM ABDUL-JABBAR, six-time NBA Most Valuable Player, is the author of the New York Times bestseller Giant Steps, as well as Kareem and A Season on the Reservation. ANTHONY WALTON is the author of the critically acclaimed memoir Mississippi, as well as the coauthor of Reverend Al Sharpton's book Go and Tell the Pharoah.
Praise For Brothers in Arms: The Epic Story of the 761st Tank Battalion, WWII's Forgotten Heroes…
"A carefully researched and engrossing account that paints the individual dramas of the tankmen against the backdrop of the war . . . A fine tribute to these unsung heroes and a valuable addition to the literature on African American service in World War II." —Washington Post Book World

More than a combat story or a segregated version of Stephen Ambrose's Band of Brothers. It's also the story of how black soldiers had to fight (literally and figuratively) for the right to fight the Germans." —USA Today

"A wholly different perspective on the 'greatest generation.'" —People (Critic's Choice)

"A brilliant and moving narrative that through its imagery helps the reader appreciate the hardness of battle." —Charlotte Observer

"A slam dunk . . . Well written, well researched and an excellent read . . . Abdul-Jabbar does an incredible job of weaving [the personal stories] into the context of the war as it unfolded." —Pittsburgh Post-Gazette

"A touching profile of men who fought overt and subtle racism for the chance to prove their mettle, and a poignant reminder of the unreasonable prejudices of that era that almost kept them on the sidelines." —Sacramento Bee

"An inspirational, moving account of courage and comradeship on the part of exceptional men." —Military History

"Not only an exciting, informative military history for the general reader but also a revealing and moving record of racism in America's past." —Houston Chronicle
Advertisement