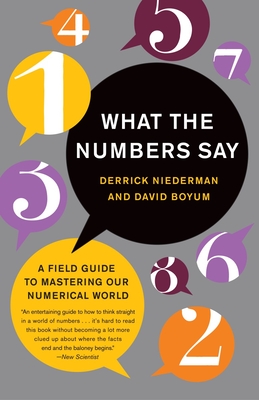 What the Numbers Say: A Field Guide to Mastering Our Numerical World (Paperback)
A Field Guide to Mastering Our Numerical World
Broadway Books, 9780767909990, 288pp.
Publication Date: June 8, 2004
Description
Our society is churning out more numbers than ever before, whether in the form of spreadsheets, brokerage statements, survey results, or just the numbers on the sports pages. Unfortunately, people's ability to understand and analyze numbers isn't keeping pace with today's whizzing data streams. And the benefits of living in the Information Age are available only to those who can process the information in front of them.
What the Numbers Say
offers remedies to this national problem. Through a series of witty and engaging discussions, the authors introduce original quantitative concepts, skills, and habits that reduce even the most daunting numerical challenges to simple, bite-sized pieces. Why do the nutritional values on a Cheerios box appear different in Canada than in the U.S.? How is it that top-performing mutual funds often lose money for the majority of their shareholders? Why was the scoring system for Olympic figure skating doomed even without biased judges?
By anchoring their discussions in real-world scenarios, Derrick Niederman and David Boyum show that skilled quantitative thinking involves old-fashioned logic, not advanced mathematical tools. Useful in an endless number of situations,
What the Numbers Say
is the practical guide to navigating today's data-rich world.
From the Hardcover edition.
About the Author
DERRICK NIEDERMAN received a B.A. in mathematics from Yale and a Ph.D. in mathematics from MIT. He is the author of This Is Not Your Father's Stockpicking Book, The Inner Game of Investing, and A Killing on Wall Street. DAVID BOYUM received a B.A. in applied mathematics and a Ph.D. in public policy from Harvard. He has been a visiting scholar at the Yale School of Management and a Robert Wood Johnson Scholar in Health Policy Research at Yale.
Praise For What the Numbers Say: A Field Guide to Mastering Our Numerical World…
"This is a superb book–important and fun to read. We live in an age in which all people need to be fluent in two languages–words and numbers. Yet our schools do not teach and our students do not learn how to be quantitatively literate. This book demonstrates what traditionally is not taught, but desperately needs to be–the application, uses, and abuses of numbers."
–Arthur Levine, President, Teachers College, Columbia University

"Entertaining, interesting, and educational. A real winner!"
–Brian L. Roberts, President and CEO, Comcast Corporation

"This book is full of insights. With examples ranging from baseball to Social Security to the stock market, the authors make the numbers we live with everyday understandable and accessible. Read this book and you will probably double your numerical literacy. What's more, you will enjoy the read!"
–Joseph S. Nye Jr., Dean, John F. Kennedy School of Government, Harvard University, and former Assistant Secretary of Defense for International Security Affairs

"It's almost always about the numbers! What the Numbers Say is a witty and engaging book that highlights just how critical understanding the numbers is to our daily life."
–David Bach, best-selling author of Smart Couples Finish Rich and Smart Women Finish Rich

"Numbers have always been important in daily living, but now the computer and the Internet have made them more indispensable than ever. The authors of this splendid volume show us how to cope with the numbers that bombard us from all directions. Do you understand sports statistics? Can you spot the flimflams in statistical claims about health and medicine? If you don't want to be a dummy about quantitative information, then read this book. It will tell you all you need to know, in clear and entertaining prose."
–Martin Gardner, author of The Colossal Book of Mathematics, and former "Mathematical Recreations" columnist, Scientific American

Advertisement