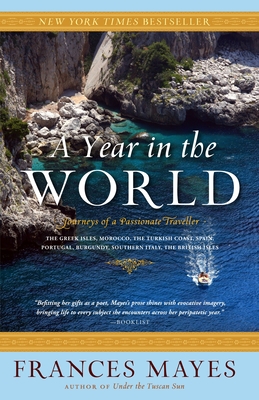 A Year in the World (Paperback)
Journeys of A Passionate Traveller
Broadway Books, 9780767910064, 448pp.
Publication Date: March 13, 2007
* Individual store prices may vary.
Description
A CLASSIC FROM THE NEW YORK TIMES BESTSELLING AUTHOR OF UNDER MAGNOLIA

A Year in the World is vintage Frances Mayes—a celebration of the allure of travel, of serendipitous pleasures found in unlikely locales, of memory woven into the present, and of a joyous sense of quest. With her beloved Tuscany as a home base, Mayes travels to Spain, Portugal, France, the British Isles, and to the Mediterranean world of Turkey, Greece, the South of Italy, and North Africa. Weaving together personal perceptions and informed commentary on art, architecture, history, landscape, and social and culinary traditions, Mayes brings the immediacy of life in her temporary homes to readers. An illuminating and passionate book that will be savored by all who loved Under the Tuscan Sun, A Year in the World is travel writing at its peak.
About the Author
In addition to her Tuscany memoirs, Under the Tuscan Sun, Every Day in Tuscany, and Bella Tuscany, FRANCES MAYES is the author of the illustrated books In Tuscany and Bringing Tuscany Home; Swan, a novel; The Discovery of Poetry, a text for readers; five books of poetry; and most recently a southern memoir, Under Magnolia.  She divides her time between homes in Italy and North Carolina.  Visit France Mayes's blog at www.francesmayesbooks.com.
Praise For A Year in the World: Journeys of A Passionate Traveller…
"Those who want to find parts of themselves they didn't know existed, take risks, have an adventure . . . and discover another culture altogether, with its different rhythms, tastes, smells, and ways of being human—those readers will find in Mayes a kindly, eager, tough-spirited guide."
—Houston Chronicle

"Mayes is a master at capturing a solid sense of place through her lush, poetic narratives."
—Orlando Sentinel

"It's easy to understand why Mayes has become a kind of cult figure for seekers of The Good Life. She not only inspires us to seize the moment, sip the wine, and smell the roses, she also makes us feel it is quite possible to transform our lives, just as she did."
—Lexington Herald-Leader

"Mayes displays a gift for conveying everyday life through her writing . . . and presents a simpler, less frantic version of how to live one's life."
—USA Today

"Frances Mayes is, before all else, a wonderful writer." —Chicago Tribune

"Armchair travel is rarely this astute and fun."
—Scripps-Howard News Service

"Nobody is better than Frances Mayes at giving the sharp sensory details that take you immediately into a place: colors, sounds, smells, tastes…Her writing captures the whole experience…This is travel writing of high quality, focused on beauty."
—Cleveland Plain Dealer

"Befitting her gifts as a poet, Mayes's prose shines with evocative imagery, bringing life to every subject she encounters across her peripatetic year."
-Booklist