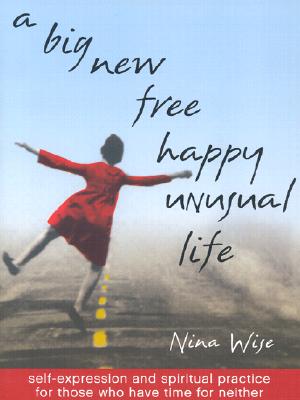 A Big New Free Happy Unusual Life: Self Expression and Spiritual Practice for Those Who Have Time for Neither (Paperback)
Self Expression and Spiritual Practice for Those Who Have Time for Neither
Harmony, 9780767910071, 256pp.
Publication Date: May 14, 2002
* Individual store prices may vary.
or
Not Currently Available for Direct Purchase
Description
A captivating performance artist and teacher, Nina Wise has dedicated her life to tapping the wisdom that emerges from spontaneity. Under Wise's guidance, thousands have discovered the healing power of spontaneous movement, storytelling, vocalizing, and other forms of unedited self-expression. Now she shares the time-tested discoveries of her surprising and spirited workshops in A Big New Free Happy Unusual Life.

In clearly-explained, ten-minute exercises that can be performed almost anywhere, Nina Wise points the way towards a fuller, more creative life. She invites us to rediscover the body, to fall in love with language, and most of all to see the extraordinary in the ordinary. Wise's voice is invigorating and warm as she provides a remarkable antidote to anyone struggling with burnout, past traumas, everyday stresses, or specific fears. A Big New Free Happy Unusual Life helps us unlock deep sources of peace and leads us to discover the robust creativity that lies at the heart of our being.
Praise For A Big New Free Happy Unusual Life: Self Expression and Spiritual Practice for Those Who Have Time for Neither…
"This book is wise, passionate and delight-full. As a teacher and performer, and now as an author, Nina Wise shows us how to bring creativity, spirituality, and joy into our day-to-day lives. I have found this book, like its author, a pleasure to know–provocative and creatively stimulating. I recommend it to anyone who wants to enliven and lighten up their lives."
–Lama Surya Das

"An empowering, joyful, and celebratory guide to a fuller life. Creativity is enhanced when we learn to play, dare to break the rules, dance, sing, laugh. Nina Wise is wise indeed! She teaches us to expand our senses and to connect body and soul while having fun. This wonderful book could change my life...."–Isabel Allende

"Nine Wise joins great talent with spiritual understanding. No one else I know so intimately joins the sublime and the absurd, surface and depth, the high and the low. Her range is enormous."–Natalie Goldberg, author of Writing Down the Bones

"Nina Wise invites us to join the dance of life in an artful world–to respond to all of life's offerings including the difficult ones with our birthright of creative expression. She shows us how our own capacity for expression can lift us out of our confusion, afford us greater understanding, and allow us to respond to our suffering with deeper compassion."
–Sylvia Boorstein, author of It's Easier Than You Think: The Buddhist Way to Happiness

Advertisement