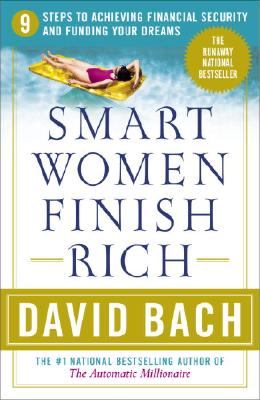 Smart Women Finish Rich: 9 Steps to Achieving Financial Security and Funding Your Dreams (Paperback)
9 Steps to Achieving Financial Security and Funding Your Dreams
Crown Business, 9780767910293, 352pp.
Publication Date: January 8, 2002
Description
With hundreds of thousands copies in print around the world, Smart Women Finish Rich, by renowned financial advisor David Bach, has shown women of all ages and backgrounds how to take control of their financial future and finish rich. Whether you're working with a few dollars a week or a significant inheritance, Bach's nine-step program gives you tools for spending wisely, establishing security, and aligning money with your values. Plus, in this completely revised and updated edition, David Bach includes critical new long-term investment advice, information on teaching your kids about money, Internet resources, and new ways to attract greater wealth-personal and financial-into your life.
About the Author
A senior vice president of a major New York brokerage firm, David Bach is a partner of The Bach Group, which manages over a half-billion dollars of individual investors' money. The national bestselling author of Smart Couples Finish Rich, Bach is the host of his own PBS television special, "Smart Women Finish Rich." His investment principles are taught nationally through his Smart Women Finish Rich and Smart Couples Finish Rich seminars, which are hosted by 5,000 financial advisors in 1,500 cities with more than 100,000 attendees annually. He lives in San Francisco, California, with his wife, Michelle. Visit his website at www.finishrich.com.
Advertisement