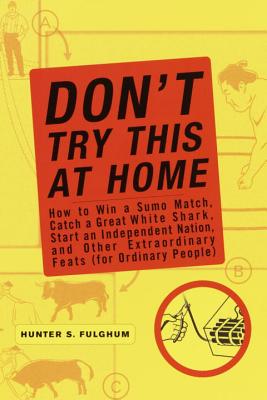 Don't Try This at Home (Paperback)
Broadway Books, 9780767911597, 288pp.
Publication Date: September 17, 2002
Description
A step-by-step guide to performing the death-defying stunts you thought were only possible in the movies.

For the millions of armchair daredevils who made Worst Case Scenario a mega bestzseller, Hunter Fulghum offers an even more hair-raising handbook. The result of persistent probing, diligent research, and outrageous phone calls to institutions like Fort Knox and the Pentagon, Don't Try This at Home gives thrill seekers everywhere the insider information they crave to show them how to perform feats such as:
*Conduct a SWAT Team hostage
*Rappel off the Eiffel Tower
*Borrow the Mona Lisa
*Form an independent nation
*Break into Buckingham Palace
*Catch a great white shark
*Meet aliens at Area 51
Filled with step-by-step instructions, including lists of necessary tools, timing tips, and helpful illustrations, Don't Try This at Home provides the ultimate guide to doing the impossible.
About the Author
HUNTER S. FULGHUM is the author of several other books, including Like Father, Like Son; Office Dirty Tricks; and You're Not Getting Better, You're Getting Older. Currently a project manager for Turner eTechnologies, he lives near Seattle, Washington.
Advertisement