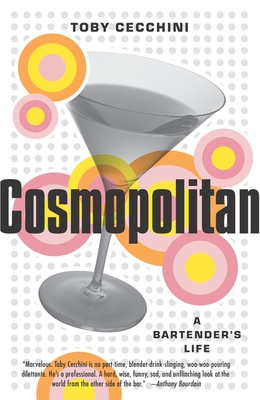 Cosmopolitan (Paperback)
A Bartender's Life
Broadway Books, 9780767912105, 256pp.
Publication Date: September 14, 2004
Other Editions of This Title:
Digital Audiobook (10/6/2003)
* Individual store prices may vary.
Description
Cosmopolitan is a memoir of the bartending life structured as a day in the life of Passerby, the bar owned and run by Toby Cecchini. It is, as well, a rich study of human nature—of the outlandish behavior of the human animal under the influence of alcohol, of lust, and of the sheer desire to bust loose and party. As the typical day progresses, Cecchini muses over a life spent in the service industry and the fascinating particulars of his chosen profession. He is by turns witty, acute, mordant, and lyrical in dealing with the realities of his profession, shedding plenty of light on the hidden corners of what people do when they go out at night.
About the Author
TOBY CECCHINI is part owner of the bar Passerby, located in New York's far-west Chelsea neighborhood. He began his bartending career in the mid-eighties at New York's fabled bar and restaurant Odeon, where he began the Cosmopolitan cocktail revival. Cecchini has also written for the New York Times Magazine and GQ. He lives in New York City.
Praise For Cosmopolitan: A Bartender's Life…
"Marvelous.  Toby Cecchini is no part-time, blender-drink-slinging woo-woo pouring dilettante. He's a professional. A hard, wise, funny, sad and unflinching look at the world from the other side of the bar.  Beautifully written, as fascinating for its backstairs account of hip restaurant/bar/lounge hijinks as it is for its unique perspective on human behavior. New York night life in all its true, hilarious, horrific, poignant and pinheaded glory."
-Anthony Bourdain, author of Kitchen Confidential

"Toby Cecchini is something of an expert in creating hospitable environments: for drinkers with his bar, and for readers with this book. He writes with a quiet, lucid style about a profession that is generally loud and chaotic, and he makes almost every aspect of his bartending vocation, including, and perhaps especially, the bad behavior of some of his patrons, totally engaging. He has also captured an essence of New York life in the way that Midwesterners are, for some reason, uniquely able to capture it. Finally, though this book's title is an overt reference to a particular mixed drink, what it embodies and anatomizes so well is an outlook on the world, in this case from behind a bar."
-Tom Beller, author of Seduction Theory and The Sleepover Artist