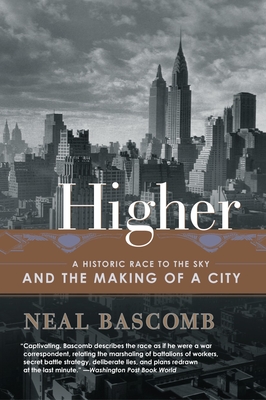 Higher (Paperback)
A Historic Race to the Sky and the Making of a City
Broadway Books, 9780767912686, 360pp.
Publication Date: September 21, 2004
* Individual store prices may vary.
Description
The Roaring Twenties in New York was a time of exuberant ambition, free-flowing optimism, an explosion of artistic expression in the age of Prohibition. New York was the city that embodied the spirit and strength of a newly powerful America. 

In 1924, in the vibrant heart of Manhattan, a fierce rivalry was born.  Two architects, William Van Alen and Craig Severance (former friends and successful partners, but now bitter adversaries), set out to imprint their individual marks on the greatest canvas in the world--the rapidly evolving skyline of New York City.  Each man desired to build the city's tallest building, or 'skyscraper.' Each would stop at nothing to outdo his rival.

Van Alen was a creative genius who envisioned a bold, contemporary building that would move beyond the tired architecture of the previous century.  By a stroke of good fortune he found a larger-than-life patron in automobile magnate Walter Chrysler, and they set out to build the legendary Chrysler building.  Severance, by comparison, was a brilliant businessman, and he tapped his circle of downtown, old-money investors to begin construction on the Manhattan Company Building at 40 Wall Street. 

From ground-breaking to bricklaying, Van Alen and Severance fought a cunning duel of wills. Each man was forced to revamp his architectural design in an attempt to push higher, to overcome his rival in mid-construction, as the structures rose, floor by floor, in record time.  Yet just as the battle was underway, a third party entered the arena and announced plans to build an even larger building.  This project would be overseen by one of Chrysler's principal rivals--a representative of the General Motors group--and the building ultimately became known as The Empire State Building.

Infused with narrative thrills and perfectly rendered historical and engineering detail, Higher brings to life a sensational episode in American history. Author Neal Bascomb interweaves characters such as Al Smith and Governor Franklin Delano Roosevelt, leading up to an astonishing climax that illustrates one of the most ingenious (and secret) architectural achievements of all time.
About the Author
Neal Bascomb is a former journalist and book editor. He recently participated in two documentaries on architectural history. A native of St. Louis, he now lives and writes in New York City. For more information about the author, please visit www.nealbascomb.com

Praise For Higher: A Historic Race to the Sky and the Making of a City…
"As a builder of perhaps more skyscrapers than anyone, I know a lot about them; yet Neal's book is very informative. This is a great and fascinating read for anyone interested in architecture, history, and New York City."
-Donald J. Trump

"Neal Bascomb's HIGHER is a fascinating account of the bitter race between two 1930's Manhattan architects to build the world's tallest building and thereby set in place a significant part of the fabulous skyline that inspires us to this day. Full of intrigue, insider's detail, and rich characterization, HIGHER is delicious history with a human face--a must-read primer on how THE city came to be."
-Les Standiford, author of The Last Train to Paradise.

"In Higher, Neal Bascomb has captured the very engaging human drama of architects and entrepreneurs scheming and competing to build the tallest skyscraper in New York--and in the world. Their legacies still stand proud, the Chrysler and Empire State buildings being among the greatest artistic and structural engineering achievements of all time."
-Henry Petroski, author of Engineers of Dreams

"Characters and buildings alike come vividly to life in Neal Bascomb's account of ambition, greed and technical ingenuity during the Roaring Twenties. An enthralling tale, brilliantly told, of the greatest architectural adventure of the twentieth century."
-Ross King, author of Michelangelo and the Pope's Ceiling and Brunelleschi's Dome

"The great race to build the world's tallest building still continues in Asia, but nowhere was the gamble undertaken with such intense competition as New York in the twenties and thirties. Out of it came iconic structures that define the city's profile and inspire generations of designers. Neal Bascomb's exploration of the struggle for supremacy among the Chrysler, Empire State, and 40 Wall Street buildings reveals how strong personalities, powerful economic forces, and shifting design aesthetics influenced those who sought to dominate the sky in New York. In his compelling narrative each building comes to a different result, but their interdependence is compellingly documented and convincingly presented. Anyone interested in the three tall buildings that make New York special with want this book."
-Hugh Hardy, Hardy Holzman Pfeiffer Associates LLP


From the Hardcover edition.