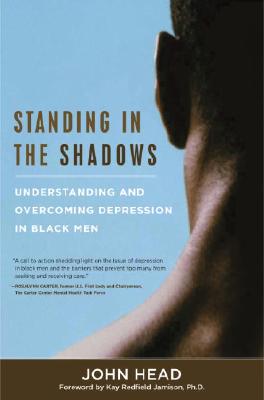 Standing In the Shadows: Understanding and Overcoming Depression in Black Men (Hardcover)
Understanding and Overcoming Depression in Black Men
Crown Archetype, 9780767913539, 224pp.
Publication Date: August 10, 2004
* Individual store prices may vary.
or
Not Currently Available for Direct Purchase
Description
A first-of-its-kind exploration of black men and depression from an award-winning journalist

The first book to reveal the depths of black men's buried mental and emotional pain, Standing in the Shadows weaves the author's story of his twenty-five-year struggle with depression with a cultural analysis of how the illness is perceived in the black community—and why nobody wants to talk about it.In mainstream society depression and mental illness are still somewhat taboo subjects; in the black community they are topics that are almost completely shrouded in secrecy. As a result, millions of black men are suffering in silence or getting treatment only in the most extreme circumstances—in emergency rooms, homeless shelters, and prisons. The neglect of emotional disorders among men in the black community is nothing less than racial suicide. John Head's explosive work, Standing in the Shadows, addresses what can be done to help those who need it most.In this groundbreaking book, veteran journalist and award-winning author John Head argues that the problem can be traced back to slavery, when it was believed that blacks were unable to feel inner pain because they had no psyche. This myth has damaged generations of African American men and their families and has created a society that blames black men for being violent and aggressive without considering that depression might be a root cause. The author also explores the roles of the black church, the black family, and the changing nature of black women in American culture as a way to understand how the black community may have unwittingly helped push the emotional disorders of African American men further underground. As daring and powerful as Nathan McCall's Makes Me Wanna Holler, Standing in the Shadows challenges both the African American community and the psychiatric community to end the silent suffering of black men by taking responsibility for a problem that's been ignored for far too long. Additionally, Standing in the Shadows gives women an understanding of depression that enables them to help black men mend their relationships, their families, and themselves.
Praise For Standing In the Shadows: Understanding and Overcoming Depression in Black Men…
"Standing in the Shadows is a brave, unblinking look at what it is like to be an African American man with depression.  John Head's insightful analysis of the connection between racism and this illness should be required  reading for everyone who cares that African American men are often absent from their families, are in jails and prisons in disproportionate numbers, and die at an alarming rates from suicide."

—Cynthia Wainscott, Chair, National Mental Health Association

"John Head deftly takes us on a personal and cultural journey into the nature of depression and the social stigmas that surround it. Standing in the Shadows is an insightful, compelling, and practical guide."

—Lawrence Kutner, Ph.D., co-director, Harvard Medical School Center for Mental Health and Media.

"This book does not haggle with statistics and scientific discoveries . . . .it literally keeps the topic of depression and black men honest by taking us through a progressive journey that helps us understand the real hurdles. Before you delve into any medical journal . . . read this book first so that you will have a deeper understanding of the topic and develop a good foundation."

—Donna Holland Barnes, Ph.D, resident and co-founder of the National Organization for People of Color Against Suicide and assistant professor in
the department of psychiatry at Howard University.

"Neither a polemic nor a weepy tell-all, Standing in the Shadows is a sobering look at what the world's most common mental illness is doing to a big chunk of our population—with well-researched words of hope and help for those men and the people who love them."

—Tracy Thompson, author of The Beast: A Reckoning with Depression

"John Head's Standing in the Shadows is a "must read" for the black man suffering from the lingering, tormenting blues and for anyone who knows him. Head makes the experience of depression real in heartfelt, well-crafted vignettes that give substance to his demand that we acknowledge, name, understand, and do something to ease the psychic pain that many black men suffer in relative silence."

—Sandra C. Walker, MD, psychiatrist and psychoanalyst
Advertisement