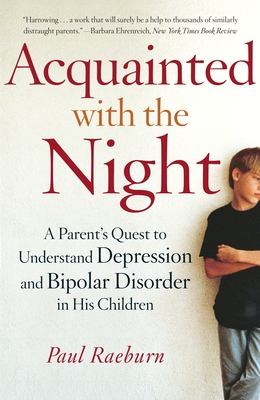 Acquainted with the Night (Paperback)
A Parent's Quest to Understand Depression and Bipolar Disorder in His Children
Broadway Books, 9780767914383, 320pp.
Publication Date: June 14, 2005
* Individual store prices may vary.
Description
In the tradition of Kay Redfield Jamison's An Unquiet Mind, Acquainted with the Night is a powerful memoir of one man's struggle to deal with the adolescent depression and bipolar disorder of his son and his daughter.

Seven years ago Paul Raeburn's son, Alex, eleven, was admitted to a psychiatric hospital after leaving his fifth-grade classroom in an inexplicable rage. He was hospitalized three times over the next three years until he was finally diagnosed by a psychiatrist as someone exhibiting a clear-cut case of bipolar disorder. This ended a painful period of misdiagnosis and inappropriate drug therapy. Then Raeburn's younger daughter, Alicia, twelve, was diagnosed as suffering from depression after episodes of self-mutilation and suicidal thoughts. She too was repeatedly admitted to psychiatric hospitals. All during this terrible, painful time, Raeburn's marriage was disintegrating, and he had to ask what he and his wife might have done, unwittingly, to contribute to their children's mental illness. And so, literally to save his children's lives, he used all the resources available to him as a science reporter and writer to educate himself on their diseases and the various drugs and therapies available to help them return from a land of inner torment.

In Paul Raeburn's skilled hands, this memoir of a family stricken with the pain of depression and mania becomes a cathartic story that any reader can share, even as parents unlucky enough to be in a similar position will find it of immeasurable practical value in their own struggles with the child psychiatry establishment.
About the Author
PAUL RAEBURN was formerly a senior writer and editor at Business Week, where he covered science and medicine for seven years. He is the recipient of many distinguished writing awards and is also the author of Mars: Uncovering the Secrets of the Red Planet and The Last Harvest: The Genetic Gamble That Threatens to Destroy American Agriculture. A native of Detroit, Raeburn lives in New York City with his wife, the writer Elizabeth Devita.
Praise For Acquainted with the Night: A Parent's Quest to Understand Depression and Bipolar Disorder in His Children…
Advance Praise for Acquainted with the Night

"Acquainted with the Night is an outstanding guide to the experience and treatment of bipolar illness in children. It lays out the confusing, harrowing, tumultuous, painful, and exhausting journey that children and their parents make with this awful but treatable disorder. Raeburn provides an enormous amount of useful information about diagnosis and treatment. He importantly also provides hope."
—Kay Redfield Jamison, Ph.D., professor of psychiatry, Johns Hopkins School of Medicine and author of An Unquiet Mind

"This memoir, the first ever written from a father's point-of-view, is an unflinching look at the impact of a child's mood disorder on a family. It's all here: the confusion over ever-shifting diagnoses, the unbearable fears for the child's future, the gradual estrangement of a well sibling and spouse, and the corrosive sense of powerlessness and guilt. And yet—through it all—the reader learns that the past is not a place of unredeemable mistake, but a chapter to be lived through and survived. This powerful memoir is a testament to love, hope, and endurance and, as such, is an important addition to the literature on mood disorders in the young."
—Demitri Papolos, M.D., and Janice Papolos, authors of The Bipolar Child

"This is a frightening, upsetting, gripping book that vividly describes a parent's encounters with despair as he attempts to save his two children from a diabolical mental illness."
—Andrew Solomon, author of The Noonday Demon: An Atlas of Depression

"Acquainted with the Night provides readers with the rare opportunity to see within the world of a father struggling to understand the experience of mental illness that afflicts two of his children.  Raeburn's background as a science writer and editor for Business Week creates the foundation from which he explores the illnesses of his children.  However, the candor with which he expresses his own grief and suffering is what moves the reader into a fuller understanding of the profound impact mental illnesses can have on a family."
—Rosalynn Carter, former. First Lady of the United States and chairperson,  The Carter Center Mental Health Task Force

"This engaging, hones,t and well-written book deals with an important and, sadly, all-too-common family problem."
—Mary Pipher, author of Reviving Ophelia


"I could not put Acquainted with the Night down.  I found it a riveting portrayal of a family ravaged by mood disorders and an unflinching assessment of the self-doubt and blame that can split a family asunder."
—Martha Hellander, J.D., executive director, Child & Adolescent Bipolar Foundation