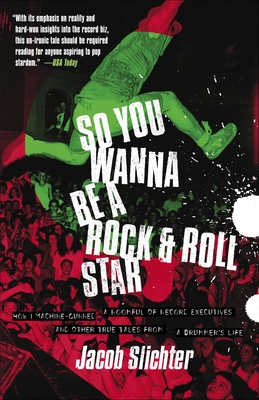 So You Wanna Be a Rock & Roll Star (Paperback)
How I Machine-Gunned a Roomful Of Record Executives and Other True Tales from a Drummer's Life
Broadway Books, 9780767914710, 304pp.
Publication Date: May 10, 2005
Other Editions of This Title:
Hardcover (4/1/2004)
* Individual store prices may vary.
Description
After years of working day jobs and making music in his basement, Jacob Slichter wondered if his dreams of rock stardom were a vain illusion. Then he was recruited by two of his successful musician friends to form a band that became Semisonic. Who could forget the smash single "Closing Time," a runaway hit in 1998 that thrust Jake and his bandmates into the international spotlight and helped them sell over two million albums worldwide? But along the road to fame and success came bewilderment and personal chaos: How will we ever get a record deal? Which record company is the best? The worst? Do I really have to wear these ridiculous boots? Why isn't radio playing our song? What if I have a panic attack right here on stage? What should I write on this fan's CD? Am I famous? Why isn't the video director getting more shots of me? Did I say the wrong thing during that interview? Help!

So You Wanna Be a Rock & Roll Star is a telling and witty look at what happens just before and during one's time in the spotlight. Jake takes readers on a step-by-step journey of his evolution from fledgling drummer to globetrotting performer and proves to be the perfect guide—feisty and humbled—to the inner workings of the music industry and instant celebrity. So You Wanna Be a Rock & Roll Star speaks to all of us who dream again and again of rock superstardom and shows how one kid can go from picking up a pair of drumsticks to picking up a platinum record.
About the Author
JACOB SLICHTER is a native of Champaign, Illinois, and graduated from Harvard with a degree in Afro-American studies and history. He has read his road diaries (originally published on the Semisonic website) on NPR's Morning Edition. With his multiplatinum-selling band Semisonic he has appeared on the Jay Leno, David Letterman, Conan O'Brien, and Craig Kilborn shows.
Praise For So You Wanna Be a Rock & Roll Star: How I Machine-Gunned a Roomful Of Record Executives and Other True Tales from a Drummer's Life…
"If I was nineteen again and lusted after the game of music, this book would be my guide and charm."
—Andrew Loog Oldham, former manager of the Rolling Stones

"Still wondering what your college band coulda been? This giddy, can-you-believe-my-luck book is for you." —Time Out New York

"Slichter's most impressive attribute is his unfailing enthusiasm for his craft and for music in general." —James McMurtry, The New York Times Book Review

"[Jacob Slichter] is a self-effacing, good-humored, and intelligent guide through the musical maze…. Few first-person memoirs of the rock biz are as smart, honest, and entertaining as this tart, incisive work." —Kirkus Reviews (starred review)