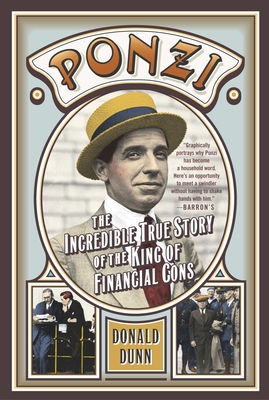 Ponzi: The Incredible True Story of the King of Financial Cons (Paperback)
The Incredible True Story of the King of Financial Cons
Broadway Books, 9780767914994, 384pp.
Publication Date: March 23, 2004
Description
Just who was the man whose name has become synonymous with the classic "rob-Peter-to-pay-Paul" scam in which money from new investors is used to reward earlier ones? In December 1919, he was an unknown thirty-eight-year-old, self-educated Italian immigrant with a borrowed two-hundred dollars in his pocket. Six months later, he was Boston's famed "wizard of finance," lionized by the public and politicians alike. Based on exclusive interviews with people who knew Charles Ponzi, lent him their money, and exposed him, Donald Dunn's "Ponzi" recreates both one of America's most notorious and colorful financial con artists and the mad money-hungry era in which he thrived.
About the Author
DONALD DUNN, a former longtime "Business Week" editor, lives in New York.
Praise For Ponzi: The Incredible True Story of the King of Financial Cons…
No swindler in history has operated with more style than the legendary figure colorfully chronicled in this book" —Washington Post

Packed with details and color and yielding a narrative that flows as easily as that of a good pulp novel." —Chicago Daily News
"Ponzi was superb at his game and following his financial twists and turns is lots of fun." —San Francisco Examiner
Advertisement