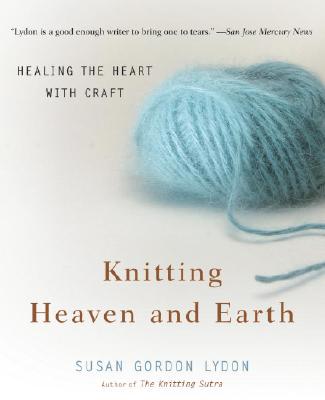 Knitting Heaven and Earth: Healing the Heart with Craft (Paperback)
Healing the Heart with Craft
Potter Craft, 9780767915656, 256pp.
Publication Date: June 14, 2005
* Individual store prices may vary.
or
Not Currently Available for Direct Purchase
Description
From the author of the modern classic The Knitting Sutra comes an inspiring and colorful narrative on knitting through one's darkest hours.

Susan Gordon Lydon's groundbreaking book The Knitting Sutra offered a new way for knitters to look at their craft—as a healing and meditative endeavor instead of a granny hobby or an indulgent pastime. The first book without knitting patterns to capture the knitting audience, it has been widely imitated, but no other book has endured so well.

With Knitting Heaven and Earth, Lydon again breaks new ground, this time following the emotional ties that become bound up in her handicrafts when a series of wrenching events—a heartbreaking romance, the death of her father, a devastating diagnosis of breast cancer—leave her reeling. Through it all, Lydon finds new reserves of strength in knitting, in the skeins of sumptuous yarn and colorful thread that help her make sense of the trials of the heart.
About the Author
SUSAN GORDON LYDON is the author of "Take the Long Way Home: Memoirs of a Survivor "and" The Knitting Sutra: Craft as a Spiritual Practice." She has written for numerous magazines, including "The New York Times Magazine, Ms., Interweave, Knits, "and" Rolling Stone," which she helped found. She has also taught knitting retreats at the Esalen Institute in Big Sur, California. Lydon lives in the San Francisco Bay Area.
Praise For Knitting Heaven and Earth: Healing the Heart with Craft…
"This will surely become the breviary of knitters and needlepointers, a carry-along-everywhere book of inspiration and courage written in prose that is richly embroidered, colorful, weighty, and textured—like a comforting shawl."—Sylvia Boorstein, author of Pay Attention, For Goodness' Sake
"Susan Gordon Lydon's big heart, clear words, and naked honesty weave the overwhelming pain of life, love, friendship, and death with the comfort of ordinary moments, the texture of yarn, a walk in the woods, having lunch with a child.  She shows us how knitting helps us stay steady through it all."
—Cyndi Lee, author of Yoga Body, Buddha Mind and OM Yoga in a Box

"Susan Lydon's writing makes me laugh and cry, often at the same time. She is a master of black (and biker) humor. When I finished this book, I started again on the first page."
—Barbara Gates, author of Already Home: A Topography of Spirit and Place


"I love this book. Profound and practical, its heartbeat is on every page. Susan Gordon Lydon's journey of spirit is filled with courage, sadness and joy, giving us an important reminder of how to find the sacred in everyday life."
—Sue Bender, author of Plain and Simple: A Journey to the Amish
Advertisement