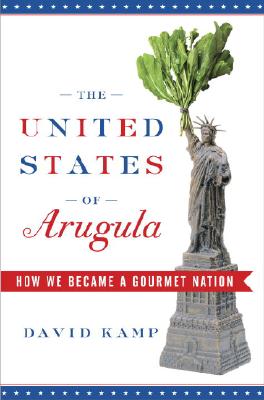 The United States of Arugula
How We Became a Gourmet Nation
Hardcover

* Individual store prices may vary.
Other Editions of This Title:
Paperback (7/17/2007)
Description
One day we woke up and realized that our "macaroni" had become "pasta," that our Wonder Bread had been replaced by organic whole wheat, that sushi was fast food, and that our tomatoes were heirlooms. How did all this happen, and who made it happen? The United States of Arugula is the rollicking, revealing chronicle of how gourmet eating in America went from obscure to pervasive, thanks to the contributions of some outsized, opinionated iconoclasts who couldn't abide the status quo.

Vanity Fair writer David Kamp chronicles this amazing transformation, from the overcooked vegetables and scary gelatin salads of yore to our current heyday of free-range chickens, extra-virgin olive oil, Iron Chef, Whole Foods, Starbucks, and that breed of human known as the "foodie." In deft fashion, Kamp conjures up vivid images of the "Big Three," the lodestars who led us out of this culinary wilderness: James Beard, the hulking, bald, flamboyant Oregonian who made the case for American cookery; Julia Child, the towering, warbling giantess who demystified French cuisine for Americans; and Craig Claiborne, the melancholy, sexually confused Mississippian who all but invented food journalism at the New York Times. The story continues onward with candid, provocative commentary from the food figures who prospered in the Big Three's wake: Alice Waters and Jeremiah Tower of Berkeley's Chez Panisse, Wolfgang Puck and his L.A. acolytes, the visionary chefs we know by one name (Emeril, Daniel, Mario, Jean-Georges), the "Williams" in Williams-Sonoma, the "Niman" in Niman Ranch, both Dean and DeLuca, and many others.

A rich, frequently uproarious stew of culinary innovation, flavor revelations, balsamic pretensions, taste-making luminaries, food politics, and kitchen confidences, The United States of Arugula is the remarkable history of the cultural success story of our era.
Praise For The United States of Arugula: How We Became a Gourmet Nation…
"David Kamp has seduced a tootle of food world idols into spilling the beans about who did what to whom in the decades when America was becoming obsessed with food. His Arugula world is juicy, irreverent, and full of bite." —Gael Greene

"With the sweep of an epic novel, David Kamp takes us behind the scenes and into the sweaty, wacky, weird trenches of the Great American Food Revolution. His reporting is solid, his storytelling magnificent and his good humor is seemingly inexhaustible. I can't imagine a better guide for touring the United States of Arugula. This is a terrific book." —Molly O'Neill, author of Mostly True: A Memoir of Food, Family and Baseball

"A great trip down memory lane and a must read for anyone passionate about the American food world of the last fifty years." —Jacques Pépin

"There's plenty of dish in this insider's view of America's gastronomic coming-of-age—read all about the food fights and the food phonies. The United States of Arugula is as racy as it is relevant. I couldn't put it down!" —Jean Anderson, author, The American Century Cookbook

"A smart, engaging account of how serious foodies brought fresh, new, and delicious meals to American tables. Kamp's deep understanding, appreciation, and respect for the key players in this history make his book a riveting read." —Marion Nestle, author of Food Politics and What to Eat

"[The United States of Arugula] is something almost everybody—but particularly those who have been caught up in upgrading their own food habits to 'gourmet' status—can mightily enjoy. . . . All the stars are here, from breakfast 'til midnight snack, in a page-turning insider's guide with an emphasis on 'dish.' " —Kirkus Reviews
Clarkson Potter, 9780767915793, 416pp.
Publication Date: September 12, 2006
About the Author
david kamp has been a writer and editor for "Vanity Fair" and "GQ" for more than a decade. He lives in New York.
or
Not Currently Available for Direct Purchase