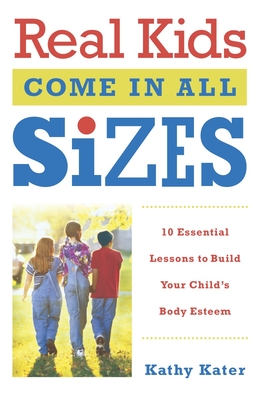 Real Kids Come in All Sizes: Ten Essential Lessons to Build Your Child's Body Esteem (Paperback)
Ten Essential Lessons to Build Your Child's Body Esteem
Broadway Books, 9780767916080, 272pp.
Publication Date: June 1, 2004
Description
Confronting two of this country's fastest growing health problems--body image and weight concerns among children and teens--this practical guide shows parents how to help their children maintain body esteem and make healthy choices a routine part of their lives.

At a time when they should feel secure in their body's growth, too many American children become anxious about size and weight and begin to eat in ways that contribute to the very problems they hope to avoid. Obesity, negative body image, and eating disorders are extremely difficult to reverse once established, and can be devastating to the self-esteem of developing bodies and egos.
Long overdue, Real Kids Come in All Sizes challenges the toxic myths that promote body-image and weight concerns in our culture. Building a foundation for lifelong health, parents can use these lessons to help their children:
--Eat well and be active
--Accept size diversity in themselves and others
--Value health and well-being over image
--Be comfortable in their developing bodies
--Resist damaging cultural messages
--Develop a strong identity and choose realistic role models
About the Author
KATHY KATER is a psychotherapist in St. Paul, Minnesota, who treats teens and adults with life-threatening eating disorders such as anorexia nervosa and bulimia. Her -Healthy Body Image- curriculum is used in fourth- through sixth-grade classrooms around the country.
Praise For Real Kids Come in All Sizes: Ten Essential Lessons to Build Your Child's Body Esteem…
"I LOVE this book . . . Real Kids Come in All Sizes should be required reading for all new parents . . . [It] brings insight and understanding to an issue that is complicated and perplexing for most of us. It gives very practical advice and easy to follow sensible lessons."
—Kitty Westin, President, The Anna Westin Foundation

"Real Kids Come in All Sizes is an essential tool for adults who care about kids in our marketing-saturated and appearance-first culture. We can fight for our children's souls and win!"
—Joe Kelly, President, Dads and Daughters®, author of Dads and Daughters
Advertisement