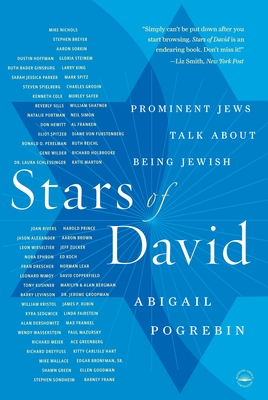 Stars of David
Prominent Jews Talk About Being Jewish
Paperback

* Individual store prices may vary.
Other Editions of This Title:
Hardcover (10/25/2005)
Description
Sixty-two of the most accomplished Jews in America speak intimately—most for the first time—about how they feel about being Jewish. In unusually candid interviews conducted by former 60 Minutes producer Abigail Pogrebin, celebrities ranging from Sarah Jessica Parker to Supreme Court Justice Ruth Bader Ginsburg, from Larry King to Mike Nichols, reveal how resonant, crucial or incidental being Jewish is in their lives. The connections they have to their Jewish heritage range from hours in synagogue to bagels and lox; but every person speaks to the weight and pride of their Jewish history, the burdens and pleasures of observance, the moments they've felt most Jewish (or not). This book of vivid, personal conversations uncovers how being Jewish fits into a public life, and also how the author's evolving religious identity was changed by what she heard.

· Dustin Hoffman, Steven Spielberg, Gene Wilder, Joan Rivers, and Leonard Nimoy talk about their startling encounters with anti-Semitism.
· Kenneth Cole, Eliot Spitzer, and Ronald Perelman explore the challenges of intermarriage.
· Mike Wallace, Richard Dreyfuss, and Ruth Reichl express attitudes toward Israel that vary from unquestioning loyalty to complicated ambivalence.
· William Kristol scoffs at the notion that Jewish values are incompatible with Conservative politics.
· Alan Dershowitz, raised Orthodox, talks about why he gave up morning prayer.
· Shawn Green describes the pressure that comes with being baseball's Jewish star.
· Natalie Portman questions the ostentatious bat mitzvahs of her hometown.
· Tony Kushner explains how being Jewish prepared him for being gay.
· Leon Wieseltier throws down the gauntlet to Jews who haven't taken the trouble to study Judaism.
These are just a few key moments from many poignant, often surprising, conversations with public figures whom most of us thought we already knew.

"When my mother got her nose job, she wanted me to get one, too. She said I would be happier."—Dustin Hoffman


"It's a heritage to be proud of. And then, too, it's something that you can't escape because the world won't let you; so it's a good thing you can be proud of it."
—Ruth Bader Ginsburg


"My wife [Kate Capshaw] chose to do a full conversion before we were married in 1991, and she married me as a Jew. I think that, more than anything else, brought me back to Judaism."—Steven Spielberg


"As someone who was born in Israel, you're put in a position of defending Israel because you know how much is at stake."—Natalie Portman


"Jewish introspection and Jewish humor is a way of surviving . . . if you're not handsome and you're not athletic and you're not rich, there's still one last hope with girls, which is being funny."—Mike Nichols


"I felt not only this enormous pride at being a Jew; I felt this enormous void at not being a better Jew."—Ronald O. Perelman


"American Jews, like Americans, have a very consumerist attitude toward their identity: they pick and choose the bits of this and that they like."—Leon Wieseltier


"I thought if I had straight hair and a perfect nose, my whole career would be different."—Sarah Jessica Parker


"I've always rebelled a little when people say, 'My Jewish values lead me to really care about the poor.' I know some Christians who care about the poor, too."—William Kristol


"There were many times when I kept silent about being Jewish as I got older, when Jewish jokes were told."—William Shatner


"'Jew bastard' was something I heard a lot."—Leonard Nimoy.


"I always liked shiksas."—Larry King


"It specifically says in the Torah that you can eat shrimp and bacon in a Chinese restaurant."—Jason Alexander


"Yom Kippur is something I do alone, with nobody else, because I believe that my relationship with God is mine and mine only."—Diane von Furstenberg
Praise For Stars of David: Prominent Jews Talk About Being Jewish…
Pogrebin not only succeeded in securing access to dozens of celebrities, but also managed the difficult task of getting them to open up about a facet of their very public lives that generally has remained private." —The Forward
 
 
*** —People Magazine
Crown, 9780767916134, 400pp.
Publication Date: August 14, 2007
About the Author
ABIGAIL POGREBIN has been a producer for Charlie Rose, Bill Moyers, and 60 Minutes—for Mike Wallace and Ed Bradley. She was a senior correspondent for Brill's Content, a contributing writer for Talk magazine, and is now a free-lance journalist whose work has appeared in many magazines and newspapers. She lives in New York City with her husband and two children.
What do you think Abigail Pogrebin's intention was in writing this book? Did she succeed?
Do you think an understanding of Judaism is needed to appreciate the book? In what ways does Pogrebin make it accessible to everyone?
Which was your favorite interview, and why? Your least favorite?
Many of the people profiled changed their names–everyone from Beverly Sills to Natalie Portman. Were you surprised to find that name-changing is still happening today? Why do you think that is?
Several of the comedians were reluctant to acknowledge Jews' contributions to humor as being greater than many ethnic groups, while others were obviously proud to pronounce it as fact. What's your take on the Jews' role in comedy?
It's no surprise that anti-Semitism comes up throughout the book. Have you ever experienced or witnessed anything like what you read about? How did/would you respond?
Richard Meier says "If you believe you are a Jew, then you are one," but just six pages later Ruth Reichl states that "it's others' definition of us that makes us Jews." Which assessment do you favor–or do you have your own theory on what makes a Jew?
Tikkun Olam–repairing the world through social action–is mentioned in several of the interviews. Of all the people in the book, who do you believe best exemplifies this concept? How?
The majority of the interviewees are either intermarried themselves, or their parents are. Did this proportion surprise you? Were there any interviewees who you would consider to be not Jewish?
What did you think of the various approaches to raising Jewish children? Whose style seemed closest to your own, or to the way you were raised?
There was also a broad range of feelings about Israel–everything from embarrassment (Ruth Reichl) to unwavering support (Joan Rivers). Who did you identify with most closely, and why?
For as much as this is a book about being Jewish, the majority of the interviewees followed few of the actual laws of observance–even though they identified themselves very strongly as Jews. Do you think this is a uniquely Jewish trait, or is it something you'd see with any religion?
Several of the interviewees–Ruth Bader Ginsburg, Ronald O. Perelman, Jason Alexander, and others–mentioned a discomfort with the role of women in Judaism. How do you feel about it?
In many ways, Pogrebin's interview with Leon Wieseltier is the heart of the book–some of his pronouncements are especially provocative, and suggest a different way of reading the others' stories. In particular, "he derides a kind of Jewish identity that might be described as Judaism Lite–an identity tied to ethnicity, not education". Do you agree or disagree with most of what he said? Did his assertions make you re-think your reading of anyone else's interviews?
Contrast Wieseltier's education-insistent approach to Judaism with Max Frankel's assertion that "education: learning to question" is half of what's making Jews turn away from religion.
In her epilogue, Pogrebin tells us that, as a result of conducting the interviews and writing the book, she has become more religious. Why do you think that is? Do you feel any different, now that you've read the book?
or
Not Currently Available for Direct Purchase