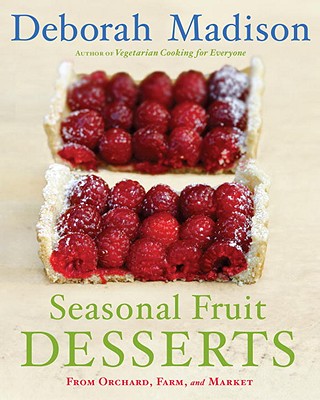 Seasonal Fruit Desserts
From Orchard, Farm, and Market
Hardcover

* Individual store prices may vary.
Description
Deborah Madison, author of the bestselling Vegetarian Cooking for Everyone, has enlightened millions of Americans about the joys of vegetarian cuisine. Now, after six books for the savory palate, she's finally introducing us to her spectacular fruit desserts—more than 175 easy recipes that are as delicious as they are healthful.
 
Have you ever bitten into a ripe, fragrant strawberry? Or a luscious peach, its juice dripping down your chin? Or a pear that explodes with flavor? Sometimes fruit, all by itself, just seems like the perfect end to a meal. Now, In Seasonal Fruit Desserts: From Orchard, Farm, and Market, Deborah Madison manages to improve on perfection, turning all of your favorite seasonal fruits into a cornucopia of decadent tarts, pies, puddings, and cakes.
 
Most of us find it difficult to incorporate enough fruit into our diets but with more than 175 recipes in this book, you'll find plenty of new, healthy and totally pleasurable ideas. Dessert doesn't need to be a complicated and time-consuming task after you have prepared a whole meal. These simple and flavorful recipes are easy to master and will delight your family and guests.
 
As an expert on local produce, Madison shows us the best fruit pairings for any season and where to find them all over the country. Did you know that the season for mangoes and strawberries overlap in Southern California making them a natural pair? Or that between November and April, there are plenty of citrus varieties—like Dancy mandarins, Fairchilds, Clementines, or honey tangerines—that find their way to shelves and markets? With recipes like Wild Blueberry Tart in a Brown Sugar Crust, Strawberries in Red Wine Syrup, Winter Squash Cake with Dates, Hazelnut-Stuffed Peaches and Apricot Fold-Over Pie, and even simple and beautiful combinations of fruits with the right cheeses, you will be introduced to many varieties of fruit from the exotic to the heirloom and dessert will be your new favorite meal of the day.
Praise For Seasonal Fruit Desserts: From Orchard, Farm, and Market…
"This is a lovely ode to fruit desserts. Deborah Madison gives us inspired, elegant combinations of flavors—fruits with cheese, in tarts and cakes, and with lovely, captivating ideas for using herbs, spices, and flowers to enhance their flavors. It's a gem from a subtle, artful writer about a life enlivened by food and shared meals." —Lindsey Shere, author of Chez Panisse Desserts
 
"I'm definitely a 'fruit for dessert' person and I've just gone crazy with this new book. The recipes are simple and beautifully explained in Deborah's patient, knowledgeable voice. This is a book for both those just learning to cook as well as cooks with lots of experience." —John Ash, James Beard Award-winning author and IACP Cooking School Teacher of the Year
 
"Here is the perfect dessert book for the savory cook; a collection of recipes valuing improvisation over precision and taste over intricate constructions. In Seasonal Fruit Desserts, Deborah Madison offers recipes that shout about the beauty and romance of a sweet apricot or crisp tart apple, while also connecting us to the stories of growers and the evolution of regional fruit varieties." —Peter Hoffman, chef/owner of Savoy and Back Forty in New York City
 
"Deborah Madison is all about trust . . . the places she takes us beyond the recipe are what make her work so vital. Here, she is in all her glory telling us how to sort through the confounding variety of fruits for the best flavors and how to understand what we're buying from the ground up. And she makes no bones about what she believes—taste and sustainability above all, local if at all possible, and in season always. Bravo!" —Lynne Rossetto Kasper, host of The Splendid Table® from American Public Media
 
"From recipes for fresh fruits and berries accented with spices and syrups, to warm baked cobblers and preserves—along with her expert tips for sourcing the best of the market—Seasonal Fruit Desserts is a terrific collection of seasonally inspired recipes that I'll be reaching for year round." —David Lebovitz, author of The Sweet Life in Paris and Ready for Dessert
 
"Finally, fruit gets equal time in the masterful mind and hands of Deborah Madison! Her delicious celebration of biodiversity is filled with fresh new tastes of heirloom treasures." —Poppy Tooker, Emeritus Chair, Slow Food USA Ark of Taste and author of Crescent City Farmers Market Cookbook
 
"Deborah Madison's enthusiasm and authority has seduced a loyal readership and she has done it again with this book—the only book fruit desserts a passionate cook will ever need." —Peggy Knickerbocker, author of Simple Soirées
Ten Speed Press, 9780767916295, 288pp.
Publication Date: April 6, 2010
About the Author
Deborah Madison, founding chef of Greens Restaurant in San Francisco, is the award-winning author of nine cookbooks, including, "The Greens Cookbook," "Vegetarian Cooking for Everyone," and her latest, "Vegetable Soups from Deborah Madison's Kitchen." She has received the M.F.K. Fisher Mid-Career Award, the International Association of Culinary Professionals' Julia Child Cookbook of the Year Award, and three James Beard awards.

In addition to writing on food and farming for such magazines as "Gourmet," "Saveur," "Orion," and the blog Culinate.com, she has long been active in Slow Food and other groups involved in local food issues. She was a manager of her local farmers' market in Santa Fe and served as a board member of the same market for twelve years. Although she now grows a few fruits and vegetables at her home in Galisteo, New Mexico, she is still an avid farmers' market shopper and never goes anywhere without bringing home a big bag of the local bounty.
or
Not Currently Available for Direct Purchase