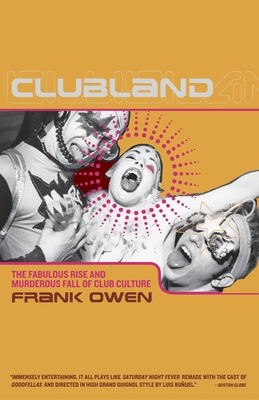 Clubland: The Fabulous Rise and Murderous Fall of Club Culture (Paperback)
The Fabulous Rise and Murderous Fall of Club Culture
Broadway Books, 9780767917353, 336pp.
Publication Date: June 8, 2004
Description
Outrageous parties. Brazen drug use. Fantastical costumes. Celebrities. Wannabes. Gender-bending club kids. Pulse-pounding beats. Sinful orgies. Botched police raids. Depraved criminals. Murder.
Welcome to the decadent nineties club scene. In 1995, journalist Frank Owen began researching a story on Special K, a designer drug that fueled the after-midnight club scene. He went to buy and sample the drug at the internationally notorious Limelight, a crumbling church converted into a Manhattan disco, where mesmerizing music, ecstatic dancers, and uninhibited sideshows attracted long lines of hopeful onlookers. Owen discovered a world where reckless hedonism was elevated to an art form, and where the ever-accelerating party finally spun out of control in the hands of notorious club owner Peter Gatien and his minions. In
Clubland
, Owen reveals how a lethal drug ring operated in a lawless, black-lit realm of fantasy, and how, when the lights came up, their excesses left countless victims in their wake. Praised for his risk-taking and exhilarating writing style, Frank Owen has spawned a hybrid of literary nonfiction and true crime, capturing the zeitgeist of a world that emerged in the spirit of "peace, love, unity and respect," and ended in tragedy.
About the Author
Born in Manchester, England, Frank Owen received an American studies degree from Keele University, and later went on to earn his MA at the Birmingham Centre of Cultural Studies. He trained as a radio journalist at the BBC. In the 1980s he moved from London to New York to become the music editor at Spin magazine. His work has also appeared in Details, Arena, Elle, LA Weekly, and US. He's the author of Clubland: The Fabulous Rise and Murderous Fall of Club Culture and No Speed Limit: The Highs and Lows of Meth. He lives in Florida.
Praise For Clubland: The Fabulous Rise and Murderous Fall of Club Culture…
Like a line of coke begs for another bump (or so we've been told), Clubland is a compulsive page-turner." —Miami Herald
 
"Clubland satisfies by meting out the justice that many '90s party kids never got to see—or perhaps never wanted to. Clubland sees through the smoke, mirrors, and Ketamine." —The Village Voice
 
"Positively riveting . . . to be enjoyed even by those who've never stepped foot anywhere more stimulating than a Howard Johnson's." —San Francisco Chronicle
Advertisement