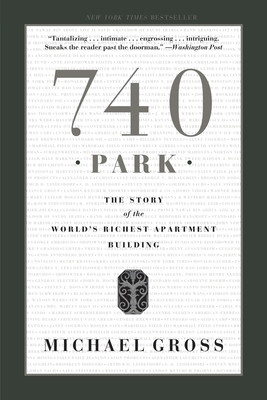 740 Park
The Story of the World's Richest Apartment Building
Paperback

* Individual store prices may vary.
Description
From the author of House of Outrageous Fortune

For seventy-five years, it's been Manhattan's richest apartment building, and one of the most lusted-after addresses in the world. One apartment had 37 rooms, 14 bathrooms, 43 closets, 11 working fireplaces, a private elevator, and his-and-hers saunas; another at one time had a live-in service staff of 16. To this day, it is steeped in the purest luxury, the kind most of us could only imagine, until now.

The last great building to go up along New York's Gold Coast, construction on 740 Park finished in 1930. Since then, 740 has been home to an ever-evolving cadre of our wealthiest and most powerful families, some of America's (and the world's) oldest money—the kind attached to names like Vanderbilt, Rockefeller, Bouvier, Chrysler, Niarchos, Houghton, and Harkness—and some whose names evoke the excesses of today's monied elite: Kravis, Koch, Bronfman, Perelman, Steinberg, and Schwarzman. All along, the building has housed titans of industry, political power brokers, international royalty, fabulous scam-artists, and even the lowest scoundrels.

The book begins with the tumultuous story of the building's construction. Conceived in the bubbling financial, artistic, and social cauldron of 1920's Manhattan, 740 Park rose to its dizzying heights as the stock market plunged in 1929—the building was in dire financial straits before the first apartments were sold. The builders include the architectural genius Rosario Candela, the scheming businessman James T. Lee (Jacqueline Kennedy Onassis's grandfather), and a raft of financiers, many of whom were little more than white-collar crooks and grand-scale hustlers.

Once finished, 740 became a magnet for the richest, oldest families in the country: the Brewsters, descendents of the leader of the Plymouth Colony; the socially-registered Bordens, Hoppins, Scovilles, Thornes, and Schermerhorns; and top executives of the Chase Bank, American Express, and U.S. Rubber. Outside the walls of 740 Park, these were the people shaping America culturally and economically. Within those walls, they were indulging in all of the Seven Deadly Sins.

As the social climate evolved throughout the last century, so did 740 Park: after World War II, the building's rulers eased their more restrictive policies and began allowing Jews (though not to this day African Americans) to reside within their hallowed walls. Nowadays, it is full to bursting with new money, people whose fortunes, though freshly-made, are large enough to buy their way in.

At its core this book is a social history of the American rich, and how the locus of power and influence has shifted haltingly from old bloodlines to new money. But it's also much more than that: filled with meaty, startling, often tragic stories of the people who lived behind 740's walls, the book gives us an unprecedented access to worlds of wealth, privilege, and extraordinary folly that are usually hidden behind a scrim of money and influence. This is, truly, how the other half—or at least the other one hundredth of one percent—lives.
Praise For 740 Park: The Story of the World's Richest Apartment Building…
"In 740 Park, Michael Gross penetrates the bewitching and private worlds of the privileged and very rich denizens of 740 Park Avenue on New York's Upper East Side. Gross, a born storyteller, delights in his tales of upstairs and downstairs over the decades in the grand building. This is social history at its best."—Dominick Dunne

"740 Park is a concrete capsule of American capitalism as seen through the fates, fortunes, and foibles of its inhabitants. This biography of New York's most magisterial building is an immensely entertaining, dishy, and ultimately serious book."—Jane Stanton Hitchcock

"The Lolita of shelter porn . . . 740 Park delves into the rarified world of one of the city's most exclusive co-ops, where billionaires like Ronald Lauder, Steve Schwarzman, and David Koch rest their heads."—Michael Calderone, New York Observer

"Jaw-dropping apartment porn."—Fortune

"Gobs of real-estate porn."—The New York Times Book Review

"[A] great read . . . gossipy . . . revealing."—People

"As rich as his subjects."—Forbes FYI

"Life after folly-filled life flashes forward like Park Avenue canopies viewed from a speeding town car."—The New York Times

"Finally! A look inside the golden tabernacle of high society."—Kitty Kelley
Crown, 9780767917445, 576pp.
Publication Date: October 10, 2006
About the Author
MICHAEL GROSS has written for Esquire, Vanity Fair, Town & Country, and countless other publications. Currently a contributing editor at Travel & Leisure, he is also the author of Genuine Authentic and the New York Times bestselling Model. He lives in New York City.