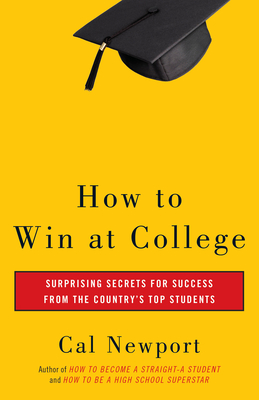 How to Win at College (Paperback)
Surprising Secrets for Success from the Country's Top Students
Three Rivers Press, 9780767917872, 208pp.
Publication Date: April 12, 2005
* Individual store prices may vary.
Description
The only guide to getting ahead once you've gotten in—proven strategies for making the most of your college years, based on winning secrets from the country's most successful students

What does it take to be a standout student? How can you make the most of your college years—graduate with honors, choose exciting activities, build a head-turning resume, and gain access to the best post-college opportunities? Based on interviews with star students at universities nationwide, from Harvard to the University of Arizona, How to Win at College presents seventy-five simple rules that will rocket you to the top of the class. These college-tested—and often surprising—strategies include:

• Don't do all your reading
• Drop classes every term
• Become a club president
• Care about your grades, Ignore your GPA
• Never pull an all-nighter
• Take three days to write a paper
• Always be working on a "grand project"
• Do one thing better than anyone else you know

Proving that success has little to do with being a genius workaholic, and everything to do with playing the game, How to Win at College is the must-have guide for making the most of these four important years—and getting an edge on life after graduation.
About the Author
Cal Newport graduated from Dartmouth College, earned a Ph.D. from MIT, and is now an associate professor of computer science at Georgetown University. He's the author of five books, including most recently the Wall Street Journal business bestseller Deep Work. He also runs the popular blog Study Hacks, which explores the impact of technology on our ability to perform productive work and lead satisfying lives. His contrarian ideas have been featured on many major media platforms, including the New York Times, Wall Street Journal, Washington Post, Economist and NPR. Visit him online at calnewport.com.
Praise For How to Win at College: Surprising Secrets for Success from the Country's Top Students…
"Smart and sensitive advice." —Jay Matthews, The Washington Post
 
"This book is the perfect high school graduation gift…. Highly recommended because it is full of practical tips that will help high school grads take the next step in life. Young readers will find many of the insights counterintuitive, refreshing, and funny too." —Money
 
"This deliberately provocative book is a good way for a smart student to see how out-of-the-box thinking can lead to success in college." —Kimberly Marlow Harnett, The Seattle Times
 
"Clear, concise and organized information that every soon-to-be or present college student should read and use . . . an excellent choice for your college-bound teen." —Denise Witmer, About.com Guide for Parenting of Adolescents
 
"Every college student, or every parent of a college student, must buy this book!" —Jeffrey J. Fox, author of How to Become CEO and How to Become a Rainmaker